When it comes to Vietnam, it is remembered of a hero small country with historic victories against long-last domination from strong countries.
As a quote of Ho Chi Minh President said: " The Hung Kings had the merit of building the country, now you and I must protect the country together"
And when it comes to Vietnam, it is always talked about Hanoi that has become the Capital of Vietnam since 1010 under Ly Dynasty. Hanoi now is a major center of politics, economics, culture, finance and tourism of Vietnam. Hanoi is also well-known as a beautiful and peaceful city that attracts thousands of foreign tourists every year.
Hanoi seems to be born with seasons of flowers. On early January, Hanoi is drawn with plenty of flowers especially Peach flowers which is a traditional symbol of Tet Holiday (Traditonal national Holiday in Vietnam). It become cool and fresh with mizzle rain. On late February and early March, the flower of Dalbergia Tonkinensis is blossoming  along Hoang Hoa Tham, Phan Dinh Phung street. On April, Madonna lily blossoms at Nhat Tan Flower Garden. On May and June, Tay Ho, Hanoi is well-known with Lotus bloom that attracts professional photographers. From early June to September, cannon ball flowers bloom around Hoan Kiem lake. In Summer, it is not too hot, Red flamboyant blossoms every street of Hanoi. This kind of flower usually recalls Vietnamese people of the time in school with "Ao Dai" dress. In Winter, Hanoi is warmed with Tithonia diversifolia.  Hanoi keeps in it secret beauties waiting for tourists' discovery.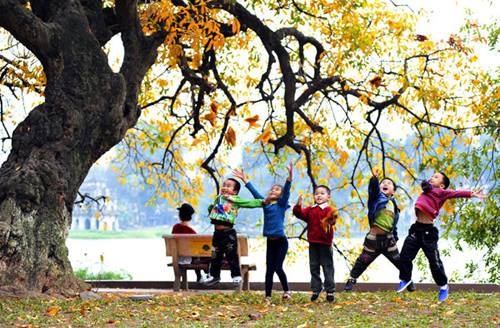 Hanoian is known with standard beautiful voice and they are very friendly. Although nowadays Hanoi includes residents from parts of Vietnam but it still keeps elegance as it is.
Destinations: Travelling Hanoi- capital of Vietnam, tourists can not miss following famous places: Pho Co (The Old Quarter), Hoan Kiem Lake, One Pillar Pagoda, Ho Chi Minh mauselum,ect.
Hanoi is a city with fresh, delicious and cheap street foods and down many of the side streets and alleways. Foreign tourists feel interesting to become Hanoian ones when sitting down small tables, enjoying street foods and viewing people walking around in busy streets.
Hanoi always welcome tourists from all over the world.
1. Do you want to obtain Vietnam visa, please access at http://govietnamvisa.com
2. Do you want to book tour, please access at http://govietnamtour.net
3. Do you want to book hotel, please access at http://govietnamhotel.com