Hanoians of all ages head for West Lake at 5am every day to exercise.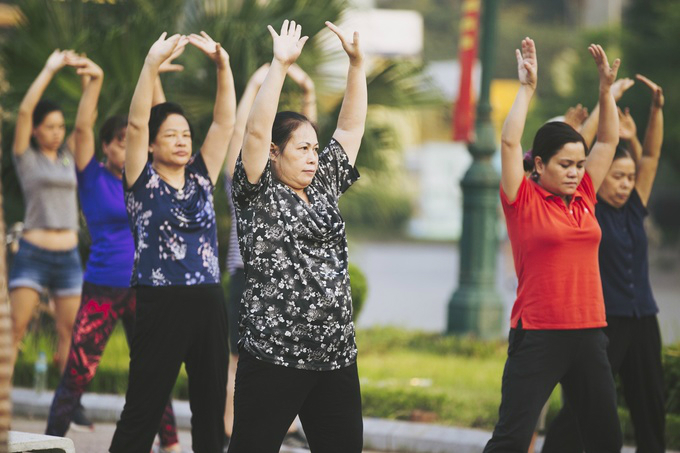 On Ve Ho Street, hundreds of people do various exercises in small groups. The grassy area of several hundred square meters is occupied by taichi practitioners. The music comes from a USB plug. Nguyen Thi Hoan, 60, says he practices here every morning for an hour. "Taichi involves a range of body movements coupled with breathing exercises to train the respiratory system and improve the circulatory system." Any passer-by can join the groups.
This man is a devoted runner along West Lake's long track and enjoys the fresh air and morning breeze every day. He tells VnExpress: "If you want to reap health benefits, you have to commit yourself to running frequently. That's why I go to West Lake every morning to run."
The three middle-aged men bike around West Lake while also seeing the sights every morning. Cycling strengthens muscles, improves joint mobility, exercises your heart, and burns calories. Studies have shown that biking for more than 30 minutes a day reduces the risk of diabetes by 40 percent. Besides all the physical benefits, it also eases stress.
The Vietnamese sport of shuttle cock kicking is also a popular form of exercise. It is in fact very popular among youngsters since it is believed it helps increase one's height.
This man is stretching by the fence after a spot of running.
This couple is over 70 but works out faithfully using publicly installed equipment. Ranging from simple equipment for doing sit-ups and step-ups to mobile ones for cardio workouts, they are popular with seniors.
Pham Phong, 82, who lives in Ba Dinh District, cycles to West Lake every morning to take advantage of the equipment. He is also happy to meet and chat with others of his age who come to exercise. The regular workout relieves his joint pains and pain from a herniated disk, he says.
Resting after a workout does not necessarily involve browsing Facebook. Seniors sit and read together, sharing the stories they have accumulated over the years.
vnexpress