The heat is not too hot but it is also not comfortable that make people easily desire a cool sweetness of ice cream. Beside cone shape  ice cream, fresh ice cream, etc. Recently, coconut ice cream has been chosen to cool the heat on summer days because of the sweetness and fragrance of the coconut meat. Together with Hanoi-online.net discover two well-known coconut ice cream shops in Hanoi.
Bao Oanh Coconut Ice Cream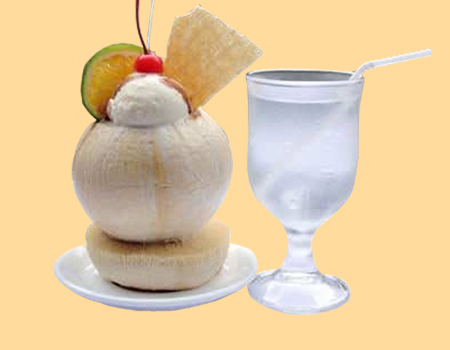 When talking to the coconut ice cream, Hanoi gourmet can not miss Bao Oanh shop locating near Truc Bach lake. This is a café and cooling beverage shop that is familiar to many Hanoian and well-known for the coconut ice cream. It is considered that the shop be the first one selling the coconut ice-cream in Hanoi capital. The coconut ice-cream has white milk color of and fragrance of distinct flavor of coconut milk, contained in a fresh coconut with cover, a little crushed coconut meat above, roasted peanut, fried grapes, it looks very eye-catching.
Because of ingredient of milk, Bao Oanh coconut ice cream has strong sweetness, somewhat drown out the fragrance of coconut. It is a good advice to gently scrape fresh coconut meat, then take a spoon of ice cream together to reduce the sweetness and enjoy total special flavor of the coconut ice cream.
A fruit of coconut ice cream Bao Oanh costs 80,000 dong. Although it is not a soft price, amount of ice-cream contained in a coconut fruit is quite plentiful and enough for two persons. Moreover, Bao Oanh shop serves other delicious beverage and tasty coconut jelly with price 60,000/fruit.
Despite of quite expensive price, the shop has a beautiful view, looking to Thanh Nien road, Truc Bach lake and whole West lake if you sit in high floor. This is an ideal place for you to enjoy ice cream and relax to see busy streets.
Coconut Ice-Cream in Hang Than street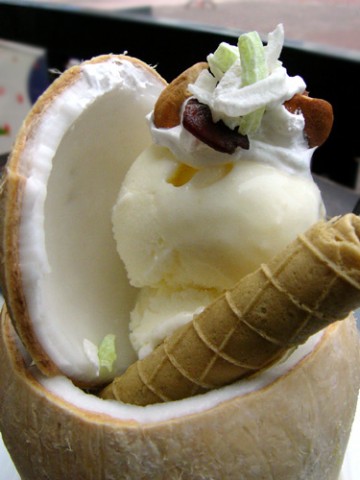 Although born later than Bao Oanh shop, Hang Than coconut ice cream still attract a large number of customers thanks to long time famous caramel dish. When appearance is taken into account, coconut ice cream Hang Than looks nicer with pale yellow vanilla ice cream and large amount of ice cream.
Another special way of coconut ice cream Hang Than is that the ice cream is poured from ice cream machine only when customer order, then it is covered with fresh coconut, crushed peanut, chocolate sauce and a tube of cinnamon. Ice cream here is greasy, not too sweet and not too strong smell of milk like Bao Oanh shop and it also attracts because of chocolate sauce.
Regarding position, coconut ice cream Hang Than does not have nice view as Bao Oanh shop, just small tables and plastic stools on the sidewalk. It is  reason why its price is softer, only 50,000 dong/ fruit. For students who do not pay attention to the seat, coconut ice cream Hang Than Goods may be an ideal choice. One more plus point of Hang Than Coconut ice cream is that there are all kinds of caramel -delicious but very affordable price.
Vietnam warmly welcomes you to enjoy Vietnamese cuisine and to make your trip in smooth water, turn your plan into real by quick hands to obtain Vietnam visa at http://govietnamvisa.com and for Vietnam eTicket at http://vietnamairlines247.com/.
For your memorable travel, it is convenient to book tour at http://govietnamtour.net
For your great stay and nice relaxation after a long trip, it is nothing better than booking hotel at http://govietnamhotel.com