Hanoi is actually over 1000 years old so the wealth of history here is mind boggling: temples, ancient citadels, unique theatre and stunning wilderness just outside the city all offer fun-filled days in Vietnam's capital.
Make sure to visit as many of these attractions as possible to fully enhance your experience in Hanoi. Below are top 10 must-seen place for you to choose to discover its beauty.
Hoan Kiem Lake
Hoan Kiem Lake (or Turtle Lake) is a popular hangout spot for locals and foreigners alike. On an island in the center lies Ngoc Son Temple, linked by a graceful red bridge.
Imperial Citadel of Thang Long
Added to Unesco's World Heritage List in 2010 and reopened in 2012, Hanoi's Imperial Citadel was the hub of Vietnamese military power for over 1000 years.
Vietnamese ao dai on show at Thang Long Imperial Citadel
Thang Long Water Puppet Theatre
Located at 57B, Dinh Tien Hoang street, nearby Hoan Kiem Lake, Thang Long Water Puppet Theatre is a familiar address for both domestic and foreign tourists, who want to enjoy water puppet shows and discovery the beauty of this unique Vietnam traditional art.
Hanoi Opera House
Built in 1911, this is one of the most elegant buildings in all of Hanoi. Tourists can enjoy opera and wonderful dance performances to this day.
One Pillar Pagoda
This pagoda is built on a single wooden pillar of 1.25 meters in diameter, which is one of traditional symbols of Vietnam.
Hanoi Train Street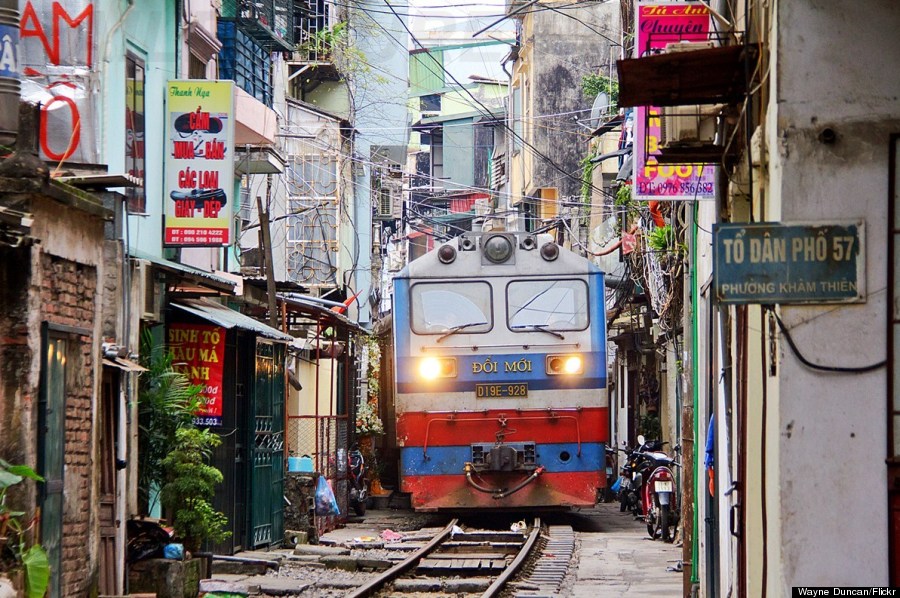 This is a narrow street in the Old Quarter, where train tracks run right down the middle, allowing trains to pass terrifyingly close to the houses. The daily life of the locals that live there have to be packed up multiple times a day when a train is scheduled to pass.
West Lake
This is the biggest freshwater lake in Hanoi. Located right in the center of the city, it makes for a perfect evening walk.
Temple of Literature

This charming temple complex hosts the Imperial Academy, the oldest university in Vietnam. It was originally built in 1070 by Emperor Ly Thanh Tong's dynasty to serve as a center of learning, dedicated to the Chinese scholar Confucius, which is known as the first university in Vietnam.
Museum of Ethnology
This museum describes the 54 different ethnic groups in Vietnam, all under one roof. It is interesting to browse through the displays and learn about the diversity of the ethnic history in Vietnam.
Perfume Pagoda
A vast complex of Buddhist temples and shrines built into the limestone Huong Tich mountains. The Perfume Pagoda one of the most important religious sites in Buddhist Vietnam.
Hanoi always welcome tourists from all over the world.
1. Do you want to obtain Vietnam visa, please access at http://govietnamvisa.com
2. Do you want to book tour, please access at http://govietnamtour.net
3. Do you want to book flight eTicket, please access at http://vietnamairlines247.com