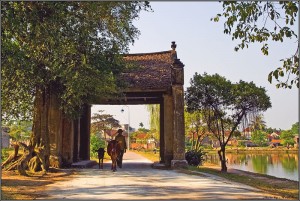 Duong Lam is a commune in Son Tay city town, Hanoi, 60 km from the city center. The commune Duong Lam currently has 9 villages: Mong Phu, Dong Sang, Doai Giap, Cam Thinh, Cam Lam, Phu Khang, Ha Tan, Hung Thinh and Van Mieu.
This is the first ancient village that was awarded as national cultural and historical heritage dated May 19, 2006.
The ancient village Duong Lam carries values of an ancient Vietnamese village in Red river delta and this is considered as a "museum of rural daily life and agricultural habits". Most all basic features of an old Viet village have been remained until now. The cultural space in Duong Lam ancient village creates public constructions such as: Communal houses, pagodas, temples, ancestor worship houses, hundreds of ancient houses that all nicely combine with natural landscapes in low hills and half-mountain half plain area. Each family here preserves traditional agricultural custom in etiquettes to their ancestors (through taking care of ancestor altar) and lifestyles of farmers in a large family (three, four generations living in a big house). Beside architectural and art constructions as sugarcane pagoda, Mong Phu communal house (18th century) together with other pagodas, temples, ancestor worship houses, Duong Lam ancient village still remains a lot old houses bearing rustic features of Red river delta region.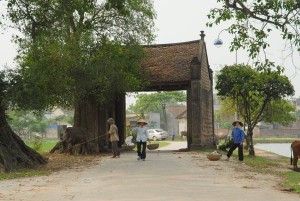 At present, Mong Phu village has about 100 ancient houses, Cam Thinh village with 17 ones, Doai Giap village with 8 ones, Phu Khang village with 13 ones. These houses owns its distinct features of architecture and main materials are wood, laterite stone, ri tile, etc. with exterior and interior still keep original architecture dating back to hundreds of years. Most of the houses in Duong Lam village have gates, fences, yard, garden, primary houses, secondary houses, kitchen, livestock area, etc.  carrying typical features of Tonkin delta, not be seen much in other villages in Hanoi. In addition, there are a lot of famous historical and cultural relics being preserved until now. Those are archaeological vestige Ben Ma (Van Mieu) under New Stone age; the vestige worships national heroes with seven national relics and a provincial one: communal house worshipping the King Phung Hung, the temple and tomb of Ngo Quyen, Sugarcane pagoda (Sung Nghiem temple) worshipping Giang Van Minh, etc.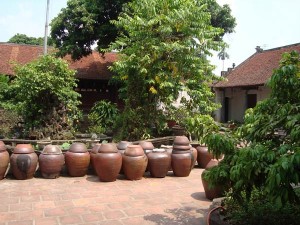 In order to conserve and promote values of historical and cultural monuments in Duong Lam ancient village, make the village become an attractive and high quality destination for tourists, on March 2008, Department of heritage and General Department of Tourism – Ministry of Culture, Sports and Tourism ran a program aiming to support and develop tourism in the ancient village Duong Lam. The program helps some families recover parts of ancient houses that has been damaged after long time, restore some rural instruments for farmers as rice mortars, rice mill, rice wine pot, water tanks, wells, garden, build latrines enough standard to serve visitors, remodel ancient houses to welcome guests stay overnight.
Vietnam warmly welcomes you to enjoy Vietnamese cuisine and to make your trip in smooth water, turn your plan into real by quick hands to obtain Vietnam visa at http://govietnamvisa.com and for Vietnam eTicket at http://vietnamairlines247.com/.
For your memorable travel, it is convenient to book tour at http://govietnamtour.net
For your great stay and nice relaxation after a long trip, it is nothing better than booking hotel at http://govietnamhotel.com