To you, what is your favorite street food in Hanoi? Maybe it depends on individual's taste; they will have their own choice. However, believe Hanoi-online, Hanoi salad is worth as one of must- tasted snacks in the capital of Hanoi.Top Five Attractive Salad Stores In Hanoi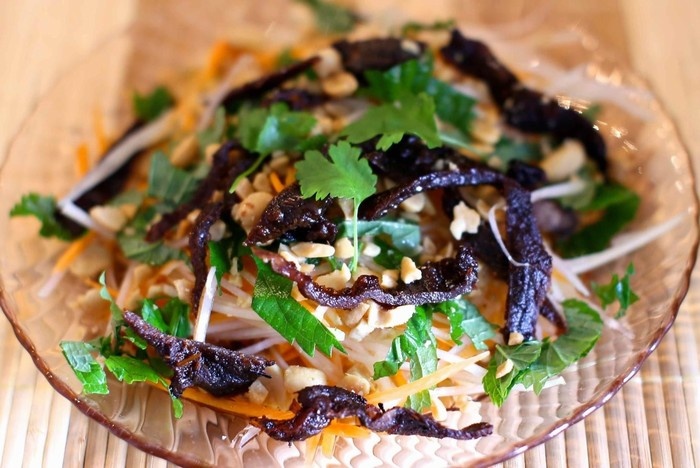 The attraction of salad dishes
Dry Beef Salad, Ho Hoan Kiem Street
This is one of the most famous dry beef salad places in Hanoi. The store is situated in the shortest street in Hanoi- Ho Hoan Kiem street, just some steps from Hoan Kiem lake. The store's space is quite narrow; hence most customers sit on pavement with tables which are arranged from small plastic stools.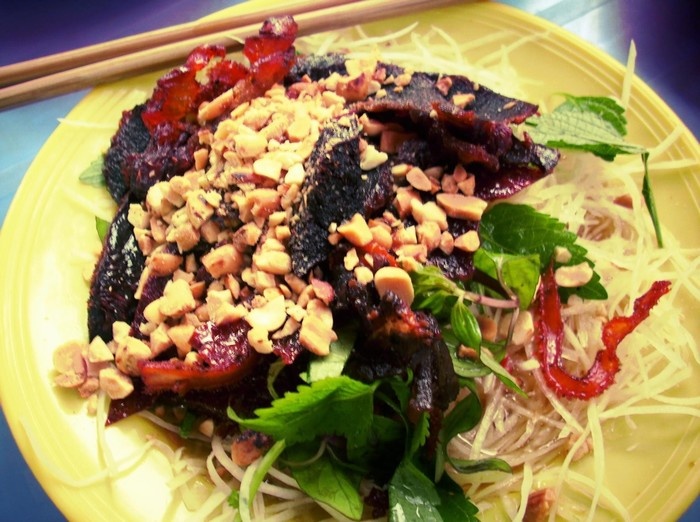 The well- known dry beef salad of Hanoi
However, it must be said that the dry beef salad is very tasty and a lot of customers come back many times to enjoy it. The beef salad has a great taste; beef meat is well-done marinated, strange taste from beef tendon and dried beef liver. Its broth is described with sour taste and all combination is great.
Not only beef salad, the store also serves other dishes such as: spring roll, steamed rice pancakes, bird salad, etc. Visiting Hanoi without tasting the dry beef salad here is a big miss.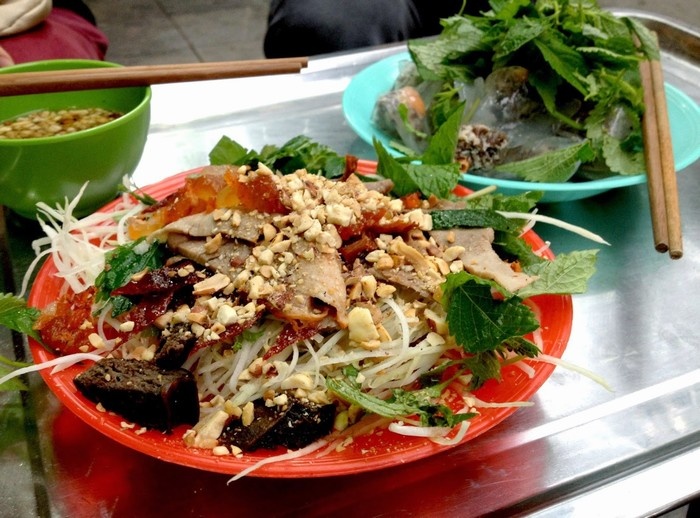 A full plate of salad
Mai Nga Salad, Ham Long
Aside from self- chosen sweet soups, Ham Long Street is also famous for yummy salad dishes. Mai Nga salad store has long been a favorite place of young people. Every time you come here, you will see that the store is packed with many young customers and hear praise from them.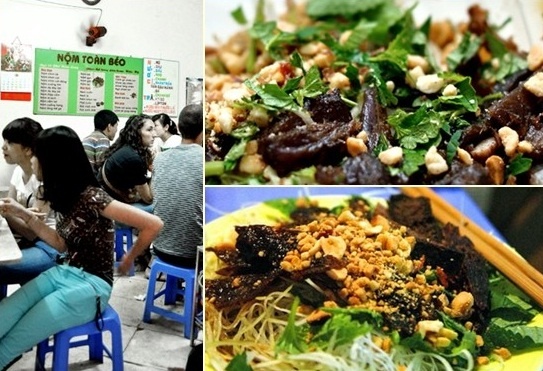 A part space from the salad store in Ham Long
The most famous dishes are the traditional dry beef salad and mixed salad with kinds of beef organs. The broth used for the salad is harmonically combined. Not only salad dishes, other dishes like steamed rice pancakes, fried chicken necks or grilled bird at Mai Nga store also get praise from young people.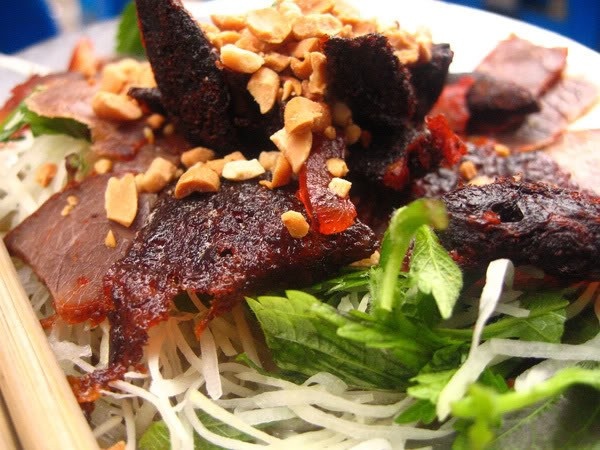 Tasty and Delicious
Jellyfish Salad Pham Hong Thai
This is a strange salad dish among favorite salad dishes in Hanoi. When talking to Hanoi salad, people usually mention to beef salad. However, jellyfish salad in Pham Hong Thai will change your thought. This is really a should- taste dish during your chat with friends.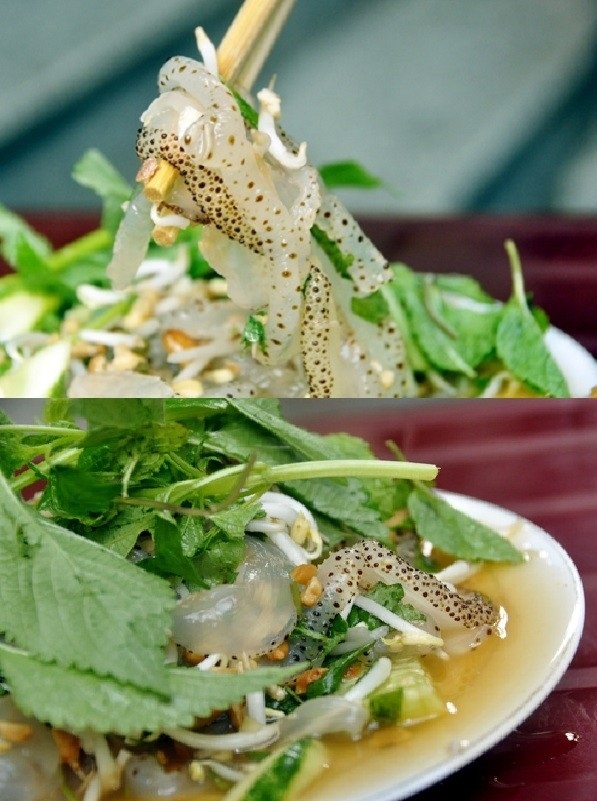 An attractive jellyfish salad on Pham Hong Thai street
The jellyfish store is a normal seafood shop. Therefore, the price for a dish of jellyfish is not too expensive as other seafood stores. But the crunchy and chewy jellyfish make you can eat it for years. That is reason why the store is always crowded, especially on the afternoon. The best way to enjoy this kind of salad is to patiently wait, during preparation, you can order other seafood.
Ironwood Salad On Pham Hong Thai Street
Pham Hong Thai seems to be well-known for salad dishes, not only jellyfish salad, you also have a chance to enjoy other salad with strange name, namely ironwood salad.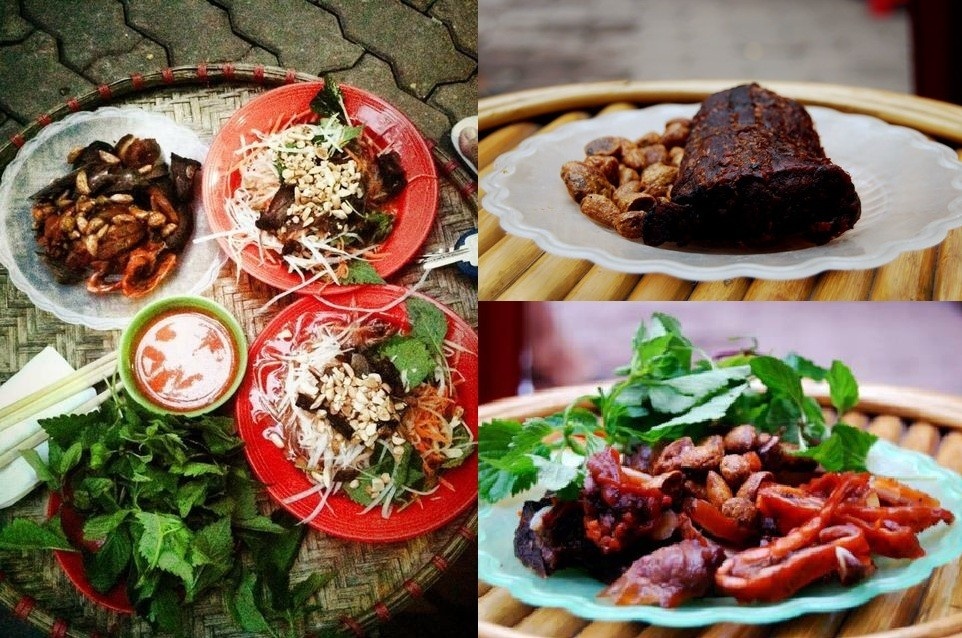 The typical feature of Hanoi in salad dishes
People call it the ironwood salad because of its special processing and the way of enjoying. Dry beef meat, instead of thin sliced, is prepared into hard and large pieces that look like parts of ironwood. However as you know, grilled pieces of meat always keep its sweetness and flavor. You will fell that outside is crunchy and fragrant, inside is soft and sweet.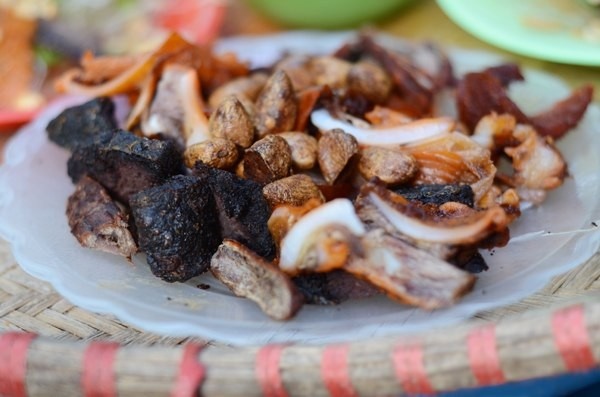 Beef meat in large and hard pieces
In addition, a plate of mixed salad here is quite attractive including stomach, spleen, tendon, etc. This is really a good place for friends who are long time no see.
Chicken And Cabbage Salad At Lan Ong Street
Surely that many people have not heard this kind of salad yet. If you are curious and expect to enjoy it, let come to Lan Ong street. It is worth spending your time and money.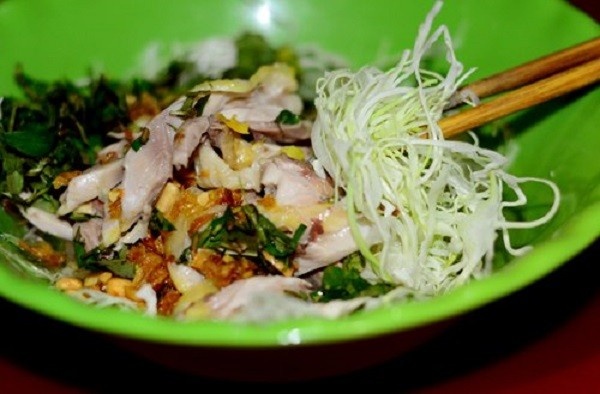 Chicken and cabbage salad is a unique salad in Hanoi on Lan Ong street.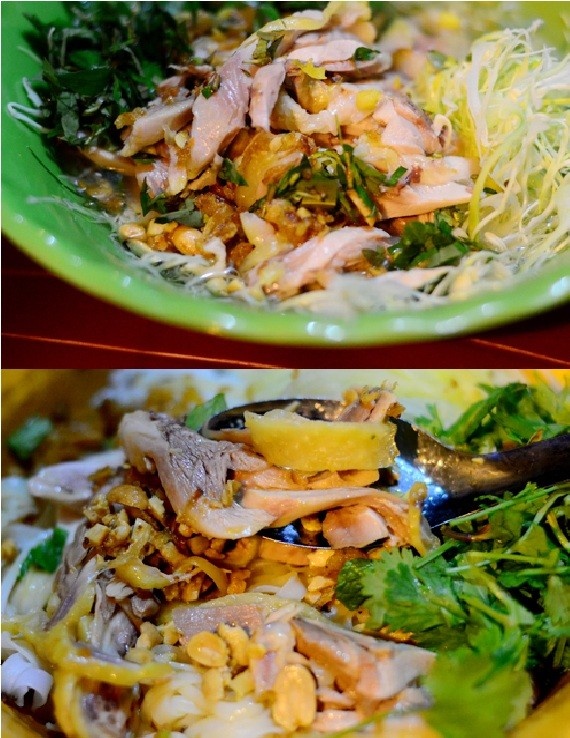 An interesting variation of Hanoi cuisine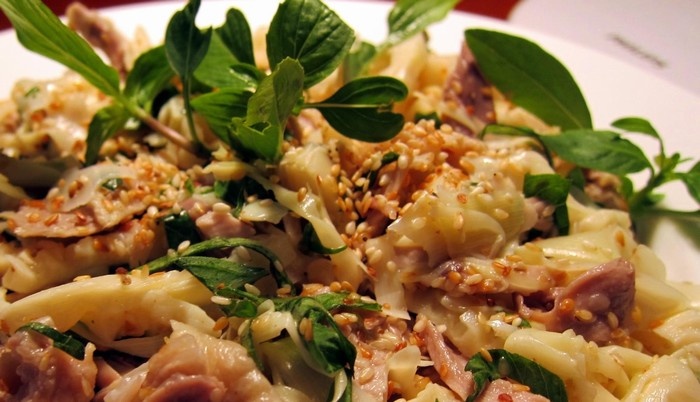 Discover Hanoi with tasty salad dishes
Hanoi has not only salad dishes but it is an indispensable part in the street food culture. If having a chance to visit Hanoi, let start your food journey at above places, you will a different Hanoi, diverse and delicious.
Vietnam warmly welcomes you to enjoy Vietnamese cuisine and to make your trip in smooth water, turn your plan into real by quick hands to obtain Vietnam visa at http://govietnamvisa.com and for Vietnam eTicket at http://vietnamairlines247.com.
For your memorable travel, it is convenient to book tour at http://govietnamtour.net