When the weather is colder, Vietnam is covered by peach flower and ochna intergerrima; it is for Lunar New Year. Tet foods which create a distinctive feel and flavor leave a deep impression on foreigners and make Vietnamese people abroad feeling homesick just by looking at their pictures.
Let's point out some following dishes, which you do not want to miss when visiting Hanoi at Tet holiday: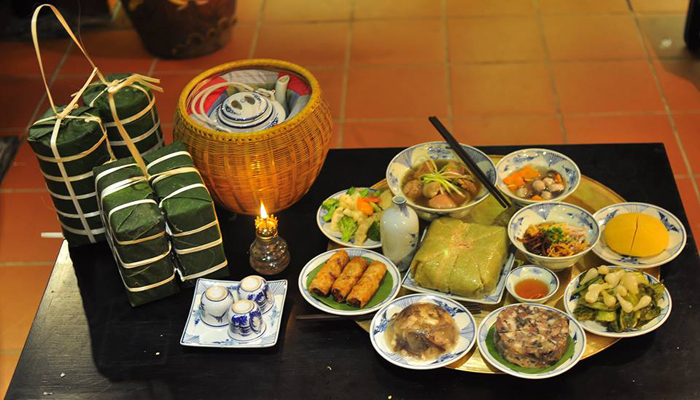 Traditional dishes for Tet in Vietnam are varied and diverse, have its meanings.
Banh Chung – Chung Cake (Or Square cake)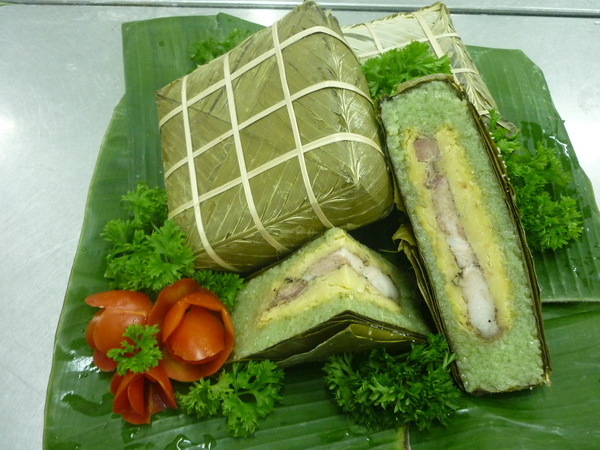 Banh Chung or Chung Cake is the ultimate Tet dish of Vietnamese people. Chung Cake is a square-shaped rice cake made from glutinous rice, green beans and pork and other ingredients which all are wrapped with green leaves before being boiled for hours on end.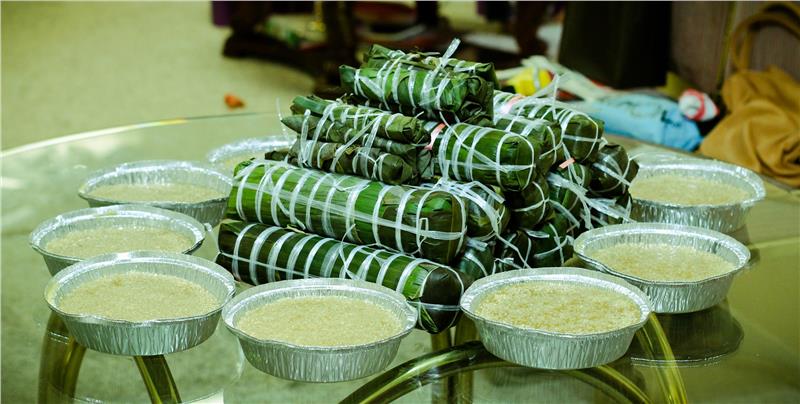 The similar of the Chung cake in the North is Tet cake in the Centre and the South
Nothing is better than savoring on soft, moist, stick Chung Cake in time for Tet in Vietnam and dip into Vietnamese culture.
Vietnamese sausage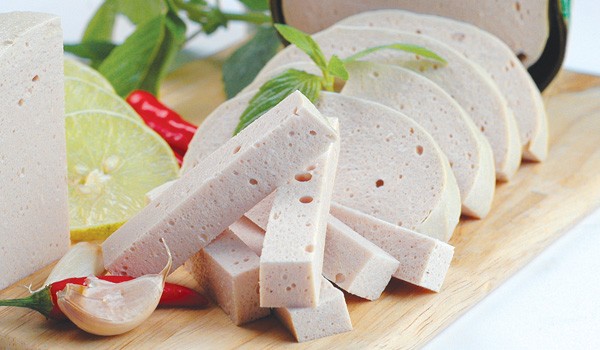 Gio Cha is another traditional food in Tet holiday. In spite of different culinary taste from the North, the Middle and the South of Vietnam, Vietnamese family in three regions have a common dish on their traditional Tet menu.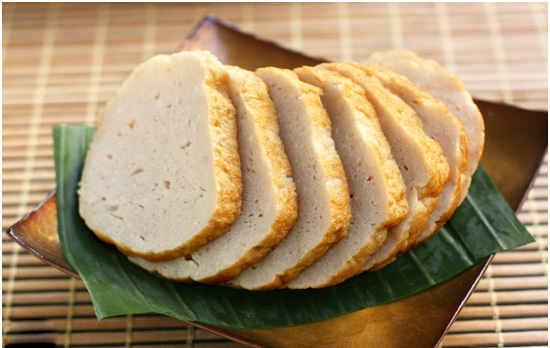 Xoi (Sticky rice)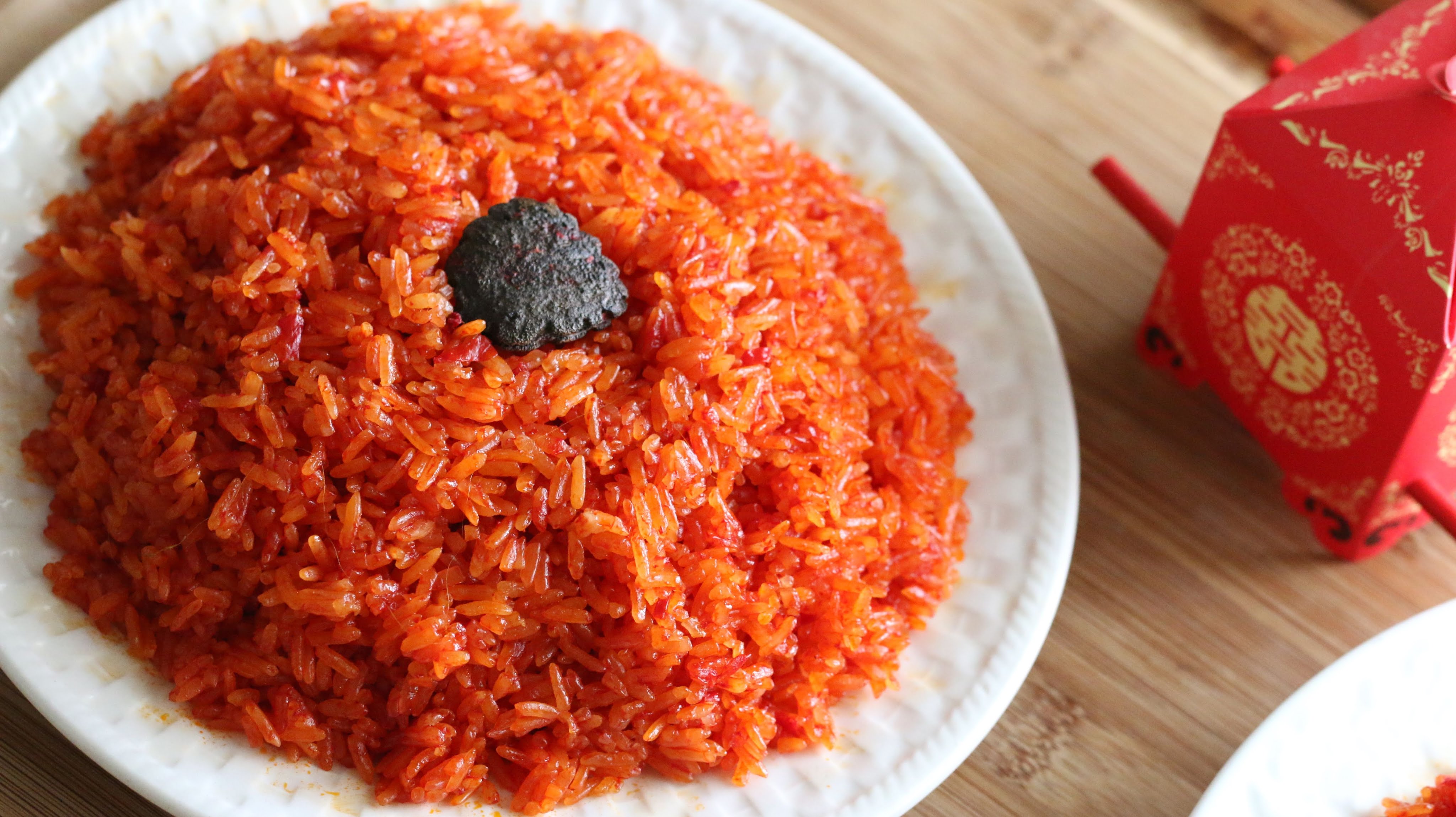 Foreign travelers first coming to Vietnam during Tet– the Vietnamese New Year, often feel curious about the special food that people living here use in their welcoming-new-year ceremony. It seems to look like sticky rice, but its bloody red color makes it so bizarre.
Mut Tet (Tet jam)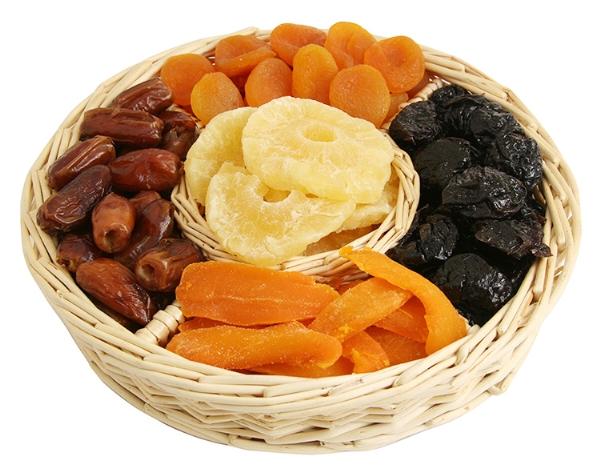 The colors are often quite intense and people serve different types of "Mứt" together
"Mut Tet" refers to fruits or vegetables that have been prepared and canned for long term storage in Vietnam. The preparation of preserved fruit traditionally involves the use of pectin as a gelling agent, although sugar or honey may be used as well.
Vietnam warmly welcomes you to enjoy Vietnamese cuisine and to make your trip in smooth water, turn your plan into real by quick hands to obtain Vietnam visa at http://govietnamvisa.com and for Vietnam eTicket at http://vietnamairlines247.com.
For your memorable travel, it is convenient to book tour at http://govietnamtour.net