Thai sweet soup in Nam Dong market, pillow- shaped cake, steamed meat rice cake in Nghia Tan market, etc. are well-known dishes of each residential area.
Nam Dong market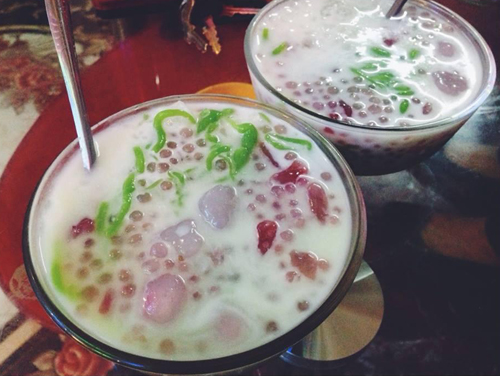 Chè stalls (sweet soup) in Nam Dong market have been highly considered to be famous for delicious Thai chè, grapefruit chè, taro chè, etc. Nam Dong food court (Dong Da district) is more and more developed with special dishes such as nem thính (a mix of meat and rice powder rolling with fig leaves), nộm bò khô (a mix of dried beef and vegetables with fish sauce), spring rolls, etc. Every afternoon, this area has so many diners and sometimes for those who come up late and then have to park their vehicles outside the market to go inside. The price for one bowl of chè is approximately from 15,000 to 25,000 VND, for a plate of fried spring rolls is about 30,000 VND.
Nghia Tan market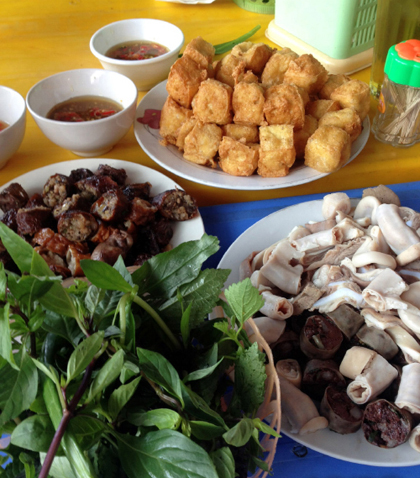 Considered to be a "heaven" of cheap snacks in Cau Giay area, Nghia Tan market has a lot of stalls selling various dishes from afternoon to midnight. The most interesting street foods of Nghia Tan market are pillow- shaped cake at the price of 8,000 VND for one, steamed meat rice cake 10,000 VND/ cake, balut with wormwood – 8,000 VND for one, etc. From late afternoon, there are many customers going for snails, fried spring rolls, fried meat, fish noodle, etc.
Dong Xuan market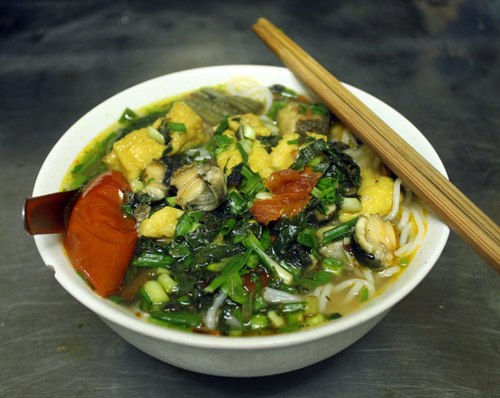 This market are popular with foreigners not only because of its diverse food, but also because of the spread of Hanoi food on tourism blog. The famous dish is Hanoi snail noodle (30,000 – 40,000 each bowl), bún chả que tre (meat fried on bamboo stick, eat with noodle) (30,000 VND each serving), fried salty rice cake (3,000 VND for one), various delicious kinds of chè (10,000 – 15,000 each cup). The market is located in Hoan Kiem District, inside the Old Street area.
Thanh Cong market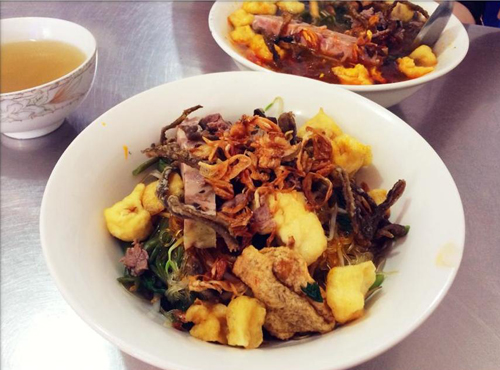 Apart from famous mussel soup, Thanh Cong market (Dong Da district) has other kinds of street food ready to be served for students from nearby schools. The youth is also attracted to get here for some food. Miến cua (grab noodle), miến trộn (noodle mixed with meat, vegetable, peanut, etc (25,000 VND each bowl). Besides, there are sweet soup stalls inside the market with price from 8,000 to 15,000 VND each cup. In the outside are boiled corns  (8,000 VND) and grilled sweet potatoes with cheap price but very delicious.
Ngo Sy Lien market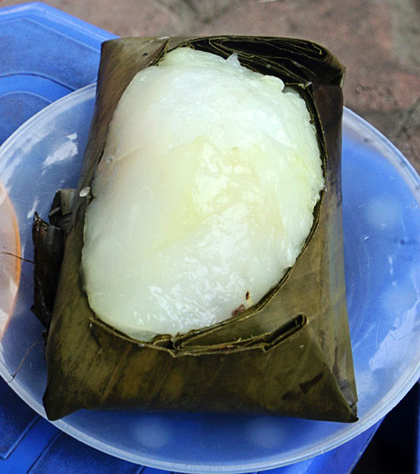 In Ba Dinh district, there are not many areas allowed to sell on the pavement like other districts. Therefore, Ngo Sy Lien market (near Hanoi station, Tran Quy Cap gate) is an interesting place to find and enjoy delicious dishes. It is also well-known for bún chửi (you eat the noodle and hear the innkeeper's abuse at the same time). In early morning, stalls of beef rice noodle, bún thang (hot rice noodle soup), miến trộn, kebab rice noodle, etc. (20,000 – 35,000 VND) are very busy. From the afternoon, stalls of bánh giò (mixed filling with sticky crust, wrapped by banana leaves), bánh trôi tàu (stuffed sticky rice balls), stir-fried sour sweet noodle, and quail balut. The price of street food in Ngo Sy Lien market are reasonable, but the space inside the stalls is limited.
Vietnam warmly welcomes you to enjoy Vietnamese cuisine and to make your trip in smooth water, turn your plan into real by quick hands to obtain Vietnam visa at http://govietnamvisa.com and for Vietnam eTicket at http://vietnamairlines247.com.
For your memorable travel, it is convenient to book tour at http://govietnamtour.net