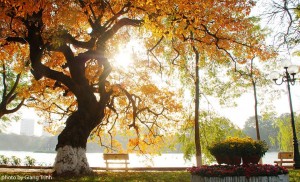 Let's start a new day with night flower market, when the sun wake up is time you visit vestiges in Hanoi city and relax with café in high buildings at night.
Hanoi is one of the most attractive destinations in the world. To discover cuisine and beauty of Hanoi capital within one day, you maybe have to wake up early and take advantage of every moment for your real experience.
4-5 am: Night  flower market
The night  flower market Quang Ba is held about 2 am. From 2 am to 4 am, for wholesale; after 4 am, beside wholesale, also has retail for tourists. This is most beautiful, freshest, and cheapest flower market in Hanoi because flowers are delivered from Tay Luu, Dong Anh, Gia Lam, Phuc Yen, etc.
If you only want to visit or buy some bunches of flowers, you can wake up around 4 am. At this time, the market is not too crowded, you are able to bargain and choose flowers as your favorite such as: rose, lily, salem, etc.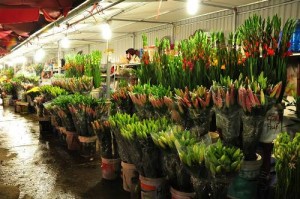 Night flower marke Quang Ba shimmering under golden light
7 am: Snail Noodle Soup West Lake
From Quang Ba market, just 5 minutes to Tay Ho temple which has famous snail noodle soup. A bowl of snail includes big and creasy snails catched from the lake, a little beef, sausage, tofu, etc. depending on tourists' requirements. The dish is a source of energy for whole day.
8 am: Co Nhu café
Located on Thanh Nien road, café Co Ngu is a place for those who like quiet and romantic space of West Lake. The second floor is decorated as ancient style of the Northern with large wood beds, couplets, horizontal lacquered board, etc. while third floor is free with view of windy West lake. In a summer morning, just dink tea or coffee, just see the West lake will bring back real moments of relaxing.
9:30 am: Temple of Literature
Let's discover Hanoi vestiges starting from the Temple of Literature- the first university in Vietnam. Located in Quoc Tu Giam street, the Temple of Literature attracts tourists because of its ancient and quiet appearance with rows of old trees, dark grey tile roofs, deep blue lake, paved walkways and garden of blossom flowers. When you come here you will have opportunity to learn Vietnam traditional fondness for learning as well as famous people engraved on Doctors' Stelae.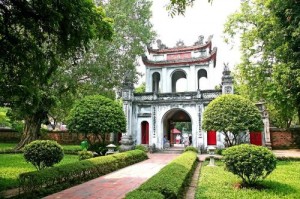 Open time: 7:30 am- 6 pm. Ticket price: 20,000 VND/ adult; 10, 000 VND/ child
12 pm: Lunch Time
Hanoi is not lack of famous and delicious dishes. If choosing Pho (Vietnamese noodle soup), you can come to Bat Dan street, Ly Quoc Su street or Lo Duc street. For bun cha dish, let visit Hang Than street, Hang Manh street, Bach Mai street. Moreover, you also should taste La Vong fish ball at Cha Ca street or fried chicken rice at Tong Duy Tan street.
2 pm: Dong Xuan market
After filling enough energy and relaxing, do not miss the busiest market in Hanoi- Dong Xuan market. This is a wholesale market with diversity of good in the past but now it sells electronic equipment, household appliances, textiles and clothing. Tourists coming here can visit or buy some items as souvenirs for their friends. Near market have snack shops. You should try a cool soup before leaving to next destination.
4 pm: watching puppet performance at Thang Long Water Puppetry Theatre
Located in Dinh Tien Hoang street, the Thang Long water puppetry theatre is a favorite address for number of tourists when visiting Hanoi. Here, tourists explore one of the folk art forms of Vietnam- water puppet performance that is selected from thousands of ancient stories. Ticket price: 60,000-100,000 VND.
5:30 pm: Visiting around the Old Quarter with electric vehicle
Leaving the theatre, you can call an electric vehicle at opposite station for strolling around the Old Quarter. Open and clean space when strolling in busy and ancient streets brings exciting and comfortable feelings to tourists. You will have chance to pass craft streets such as: Hang Bac street, Lo Ren street, Hang Chieu street, etc. as well as vestiges including Bach Ma temple, 48 Hang Ngang, Quan Chuong gate, ancient house Ma May, etc.
6:30 pm: Cool Beer at Ta Hien street
Stopping at Ta Hien street to enjoy cups of cool beer is an interesting experience after a long day. You can order additional food and see people walking around.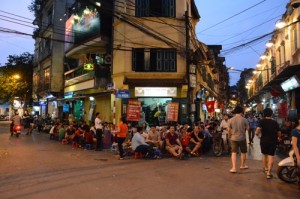 Ta Hien street attracts tourists on hot summer days
8 pm: Walking around Sword Lake (Hoan Kiem Lake)
Hoan Kiem lake at night with shimmering light is an ideal time for walking and enjoy clean and fresh air. You will see couples hand in hand walk around the lake, sitting on stone benches or elderly people relax. After that, do not forget to line up and enjoy ice cream in Trang Tien street and find a favorite book in Nguyen Xi street.
Vietnam warmly welcomes you to enjoy Vietnamese cuisine and to make your trip in smooth water, turn your plan into real by quick hands to obtain Vietnam visa at http://govietnamvisa.com and for Vietnam eTicket at http://vietnamairlines247.com/.
For your memorable travel, it is convenient to book tour at http://govietnamtour.net
For your great stay and nice relaxation after a long trip, it is nothing better than booking hotel at http://govietnamhotel.com