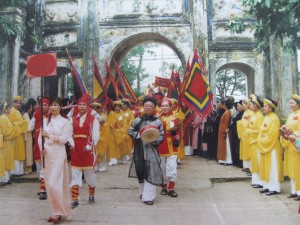 Dong Phi village, Phuong Tu commune, Ung Hoa district, Hanoi city. Before 1945, Dong Phi was a name of commune of three villages: Dong Phi, Nguyen Xa and Ngoc Dong. Nowadays, such these above villages are in Phuong Tu commune. The festival of Dong Phi village is a big festival held in two days 3rd and 4th of January (lunar calendar) with participation of two villages: Nguyen Xa  and Ngoc Dong.
Main festival of Dong Phi village is held on 4th of January. The village organize a procession of tutelary god. All members of procession gather in communal house of Dong Phi village under command of organizer, the palanquin procession of tutelary god from beginning of the village to the end of one. The procession includes a team of flag, a team of 8-weapon procession, dancing team of 12-16 girls, a female team of drum and a team of dragon dance.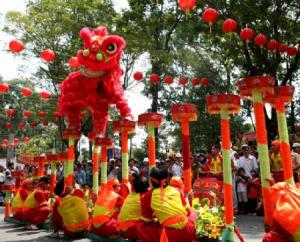 A tray of offerings includes 3 bowls of rice, 3 bowls of bean soup, and 6 dishes (coconut, peanut, pumpkin, sesame, mung bean, hyacinth bean).
The most jubilant time of festival is when the procession of three villages merge into one. Teams of lion dance are free to perform, the animated sound of drums break solemn order of palanquin procession. Especially, in the past has game of robbing shuttlecock that was made from a bulb of banana with diameter of 0,4 m. The game of robbing shuttlecock was took place at Dong Phi communal house and 5 neighboring villages in 3 days, that party robbed the shuttlecock and put it into their bag will win the game.
The Saint's palanquin is placed in front of communal house's entrance. At that time, elders of three villages join  to conduct public rituals. The cult of sacrifice lasts several weeks and villagers organize vegetarian lunch. At the end of afternoon, villagers from Nguyen Xa and Ngoc Dong come back their communal house and each village continues rituals at night in its communal house.
The festival of Dong Phi expresses the tradition of "when drinking water, remember who dug the well", acknowledges heroes who had merit of building country,  strengthen mutual support between villages and maintains local special cultural values.
Vietnam warmly welcomes you to enjoy Vietnamese cuisine and to make your trip in smooth water, turn your plan into real by quick hands to obtain Vietnam visa at http://govietnamvisa.com and for Vietnam eTicket at http://vietnamairlines247.com/.
For your memorable travel, it is convenient to book tour at http://govietnamtour.net
For your great stay and nice relaxation after a long trip, it is nothing better than booking hotel at http://govietnamhotel.com