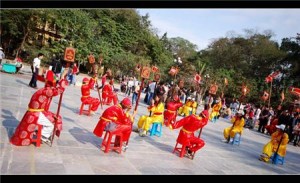 The Hundred-chamber pagoda is called different names: Mountain pagoda or Tien Lu pagoda in Tien Phuong commune, Chuong My district, Hanoi. The festival of Hundred-chamber pagoda is annually held on 4th of January that is the death day of  Bodhisattva Nguyen Binh An. He entered the convent at this temple and be famous for his intelligence in Buddhism with many miracles to help people.
The festival includes Noi village, Thuong village, Phuong Khe village (Tien Phuong commune) and Tho Nghia village (Tan Hoa commune, Quoc Oai district).
The ritual part includes: palanquin procession, procession of offering tray (Chung cake and Giay cake), procession of funeral oration, five-fruit tray and incense burner.
On 4th of January, about 7-9 am, the palanquin is placed in front of main hall, then prepare eight kinds of weapons. The palanquin procession start from mountains, down villages, then goes around half-moon shaped lake, goes straight to Quan Thanh where  the first trace of Saint's footsteps coming home for the ketchup.
When coming to the stone in Quan Thanh, the ceremony of sacrifice is started, then comes back the pagoda. At night, Mai Linh group will come in front of Saint palace to play role as Minh foreign invaders.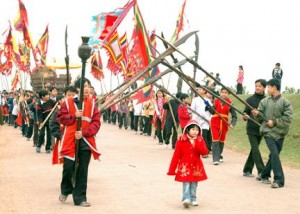 According to legend, Minh military forces invaded our country, killed people, robbed, burned pagoda, the Saint  made ​​blood  rain blood that caused many deaths of invaders, then receded. After Minh army receded, and a few soldiers begged to settle at Mai Linh. So every year on main festival night of Hundred- chamber pagoda, Mai Linh residents appoint a group conducting Minh army's rituals. It help people avoid fire and loss-making business.
Regarding a tray of five fruits, it includes six bunches of bananas, 10 oranges, 10 kumquats, 1 grapefruit, a jack-fruit, a pineapple, etc.
Other festival activities as: settling cone-shaped banana, puppet shows, fireworks, wrestling, etc. the most interesting game is human chess. So the festival of hundred-chamber pagoda is also known as the human chess festival.
The festival is a harmonious combination of Buddhism and folk beliefs of the Vietnamese people. Adding elements of yin and yang influenced by Taoism. It is one of festivals containing  intellectual factors.
Vietnam warmly welcomes you to enjoy Vietnamese cuisine and to make your trip in smooth water, turn your plan into real by quick hands to obtain Vietnam visa at http://govietnamvisa.com and for Vietnam eTicket at http://vietnamairlines247.com/.
For your memorable travel, it is convenient to book tour at http://govietnamtour.net
For your great stay and nice relaxation after a long trip, it is nothing better than booking hotel at http://govietnamhotel.com