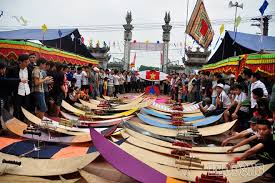 The festival of flying kite in Ba Giang commune, Dan Phuong district, Hanoi city takes place on full-moon of March (lunar calendar). The festival of flying kite is associated with "party" of Mr. Nguyen Ca who was an excellent general under time of King Dinh Tien Hoang. After his retirement, he taught people here farming skills. In his later years, he lived simply and played  rural games, in which had flying kite with children. One day, on the  mound where he and other people played kites, suddenly appeared a Saint Hau Cong.. He bowed respectfully and worshipped. Then he also disappeared with an iridescent cloud. People mourned for his dead and build a temple for Mr. Nguyen Ca on this mound. It is also an annual venue to open the flying kite festival.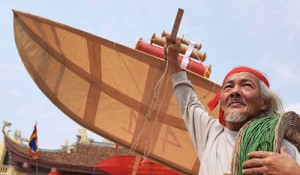 The main festival is on March but on August of last year, people prepare for making kites. They choose bamboo, buy paper, flute, etc. All must be carefully done. In the past, kites' strands were made of not young, not old bamboo, then soaked in banana water with salt added, next boiled in one day; hence it is both tough and soft. Nowadays, kites' strands are made of plastic. The lighter kites are, the higher kites fly.
Beginning the festival of flying kite is procession of  "Banh day" to memorize the Saint. The most skillful person will be chosen to make a symbolic kite 5m long, 1.5m wide, glued with scarlet paper, and a poem on kite's wings:
Wind sings, Moon light the soul of blue water
Wing-span of kites together with echo of flute
When General maintains tradition
Radiant hero win people's praise
Second activity of the festival is a rite of kite showing. Contestants take their kites in front of the temple. About 60 contestants every year,  beside Ba Giang people, the contest involves people from Ha Mo, Tan Hoi, Lien Trung, etc.
The first, second or third prize is handed for those who have kites flying high, not wobble and most beautiful flute sound. After those who win reward and sacrifice god, the contest will put an end.
Vietnam warmly welcomes you to enjoy Vietnamese cuisine and to make your trip in smooth water, turn your plan into real by quick hands to obtain Vietnam visa at http://govietnamvisa.com and for Vietnam eTicket at http://vietnamairlines247.com/.
For your memorable travel, it is convenient to book tour at http://govietnamtour.net
For your great stay and nice relaxation after a long trip, it is nothing better than booking hotel at http://govietnamhotel.com