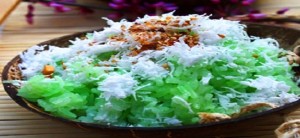 Flexible aromatic Ke Ga sticky rice with fleshy flavor of green bean, greasy and crispy flavor of fried onion keeps steps of a number of Hanoian working far from their hometown.
Ke Ga sticky rice is cooked from glutinous rice on Phu Thuong rice field (Tay Ho district, Hanoi) and soaked from the morning of previous day. Rice is shaken several times and then wash carefully and let it drain off the water. Green mung bean chosen must be peeled split and smooth, then soak them into water in certain  time and mix with drained rice. Mixing sticky rice must be careful to alternate between sticky rice and mung bean that make sure of a delicious sticky rice and avoid to be crushed.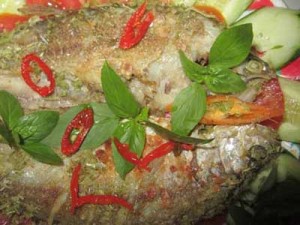 Ke Ga sticky rice has various flavor and ingredients especially coconut sesame sticky rice and red sticky rice. To the coconut sesame sticky rice, before washing rice, have to check out carefully the water and inside racks. The water must be clean and enough, the rack must be carefully cleaned. Then pour rice into a saucepan, flat it and placed on red fire. For a tasty mung bean, clean fabric screen is used to cover mung bean, then placed on top of the saucepan to be cooked by steam and not get wet.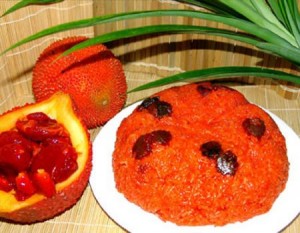 To red sticky rice, it looks more complicated. Soaking rice takes a long time about three half hours. Gấc (baby jackfruit) is squeezed with white wine and mixed with sticky rice, seasoning salt and sugar. The sticky rice is good or not is depend on cooking stage. Always keep fire very well to avoid over cooked or under cooked that make the sticky rice not flexible and uneven cooked.
To keep right flavor of the sticky rice when handling to customers, dong, lotus, banana leaves used to wrap must be fresh, cleaned and thoroughly dried. The tasty "xeo" after being cooked will be tightly clenched and use a sharp knife to cut into thin pieces.
The cooked sticky rice is removed into baskets,  steaming and fragrant. If seller want to keep heat until the final package to sell to customers, they  must have a sedge layer and wrapped in tin at bottom.
Ke Ga sticky rice is well known because its flexible, fragrant flavor, not crushed rice. It is said that Ke Ga sticky rice be a elegant and appealing food to Hanoi gourmets.
Nowadays, Phu Thuong still has hundreds of families providing sticky rice and selling all streets in Hanoi. Moreover, a lot of households offer sticky rice for wedding parties and orders from big restaurants in Hanoi.
Vietnam warmly welcomes you to enjoy Vietnamese cuisine and to make your trip in smooth water, turn your plan into real by quick hands to obtain Vietnam visa at http://govietnamvisa.com and for Vietnam eTicket at http://vietnamairlines247.com/.
For your memorable travel, it is convenient to book tour at http://govietnamtour.net
For your great stay and nice relaxation after a long trip, it is nothing better than booking hotel at http://govietnamhotel.com