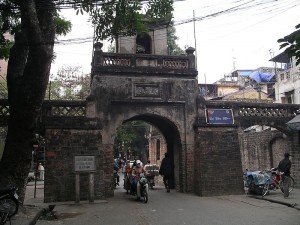 The Quan Chuong city gate is the only gate remaining of Thang Long (Dragon Fly) citadel, Quan Chuong city gate not only brings beauty in architect but also imbued with historical record of ancient Hanoi.
According to ancient document, under the king Le Thai Tong (1740-1786), the Thang Long citadel had a lot of gates: Cau Giay gate, Cho Dua gate, Cau Den gate and Quan Chuong gate. Each gate was opened in day and closed at might and had fences, watched to avoid burglar and fire.
Built from 1749 to 1817, Quan Chuong city Gate, also known as Dong Ha gate ( the East gate of Dong Ha) located in the East of Thang Long citadel. To remember the sacrifice of the army header and  Nguyen troops, fighting against  French invaders so the gate has  been called The Quan Chuong city gate.
The Quan Chuong city gate consists of two floors and was built in gazebo style – a characterized architectural style under Nguyen Dynasty; the first floor has three doors,  main door is in the middle, high and 3m wide, two side doors on either side, approximately 1.65 m wide, 2.5 m high. A special feature is all 3 doors in arch shapes; 2nd floor has 4- roof gazebo, rail surrounding, decorated with hexagon shapes, triangle shapes, flower shapes.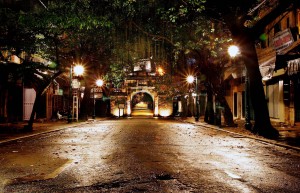 Between the roof of main gate and  the gazebo is a rectangular frame, nearly 1m high, 3m wide, there are three Chinese characters embossed "Dong Ha Mon". The left side wall is mounted a stone tablet by the General Hoang Dieu  in 1881 to ban the guardian not harass people every time they go through the gate.
The Quan Chuong city gate is located on the street with the same name where people daily purchase various goods. For those who has lived in this street for a long time, the Quan Chuong city gate has become close to them and an inseparable part.
As the only remaining gate of Hanoi, the Quan Chuong city gate not only imprinted the Thang Long capital but also a proof of the indomitable fighting spirit of the people in the fight against foreign invaders and preservation of national culture.
Passing over historical ups and downs as well as climate change, the Quan Chuong city gate was restored many times. Thus, moss layers and old appearance has been somewhat eroded, then this place is still one of the "old mark of ancient Hanoi".
Vietnam warmly welcomes you to enjoy Vietnamese cuisine and to make your trip in smooth water, turn your plan into real by quick hands to obtain Vietnam visa at http://govietnamvisa.com and for Vietnam eTicket at http://vietnamairlines247.com/.
For your memorable travel, it is convenient to book tour at http://govietnamtour.net
For your great stay and nice relaxation after a long trip, it is nothing better than booking hotel at http://govietnamhotel.com