Established in 1896, after more than 100-year history, Quoc Hoc building today is still a well-maintained French colonial-style construction. The school is a complex of five blocks of classrooms, a big football field, a basketball court, five badminton courts, a swimming pool, a medium-sized stadium, and also a block of dormitories.
It's considered the largest and also the most beautiful high school campus in Vietnam. The environment is a great picture of the harmonious relationship between the red French buildings and the green background of shady trees and stone benches.
Especially in spring, when "diep anh dao" (a kind of cherry blossoms) is in bloom, the whole picture is filled with pinky dots above the red thatched tile. Students often call that period of time "Pinky cloud season" and regard it as the most special moments of a year.
These are the reasons why Quoc Hoc is also called "Pinky school beside Perfume River Bank" in the song with the same name. Lucky if one has a chance to drop by the school during that season.
Quoc Hoc is not only famous for its charming scene; but it also gains prominence for a tradition of patriotism, industriousness, academic achievements, and respect for the time-honored values of teacher-student relationships.
Several Vietnam political leaders have been learning here, including Nguyen Tat Thanh (President Ho Chi Minh), General Vo Nguyen Giap, Prime Minister Pham Van Dong, etc. In addition, the school is famed for its students who are well-known poets (Xuan Dieu, Huy Can, To Huu, Luu Trong Lu, etc.), scientists (Ta Quang Buu, Ton That Tung, Dang Van Ngu, etc.), musicians (Tran Hoan, Chau Ky, Nguyen Van Thuong, etc.) or sculptor Diem Phung Thi and so on. The school also has students getting a high prize in many International Competitions.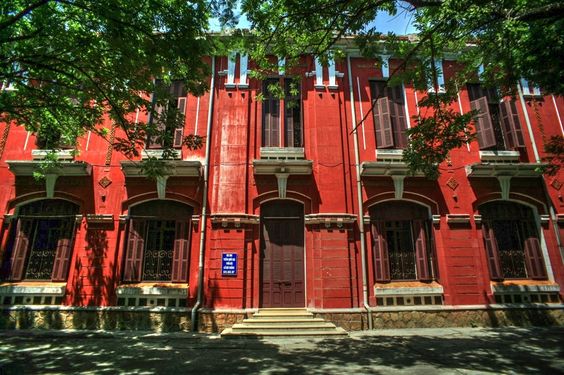 Tourists who want to visit Quoc Hoc High School should remember that the school doesn't allow entrances during class's time, which ends at 5.15 p.m. everyday (though it might be easier to go through the two side gates, in fact).
The students are very eager to talk to foreigners, especially English speakers and French speakers. That's the place for those who want to take photos of natural background, understand more about French colonial architecture, and watch female students in white "ao dai", sparkling in the nice background.
Quoc Hoc Highschool on the east bank of Perfume River, near Trang Tien bridge of Hue city.