The origin of " Khúc bạch" sweet soup still stays a mystery, it is a tempting dish of the Vietnamese dessert world. It delicately mixes up the Eastern cookery style of Chinese tofu with the Western one of panna cotta. The Vietnamese hallmark is apparently presented in the moderately sweet soup and the tropical fruits.
We would love to share with you the recipe of how to make this dessert at home to enjoy in the summer.
- Ingredients: 
1 package gelatin powder
1/4 cup cold water
200 ml whipping cream
200 ml milk
60g sugar
50g almond slices
1 can longan in syrup ( 20oz/ 585g)
1 can lychee in syrup ( 20oz/ 585g)
- Instructions
Step1: In a small bowl, add 4 tbsp cold water and sprinkle gelatin powder over the surface. Do not dump them in a pile, as the granules in the middle won't dissolve. Let stand for 5 to 10 mins. This process is called blooming gelatin.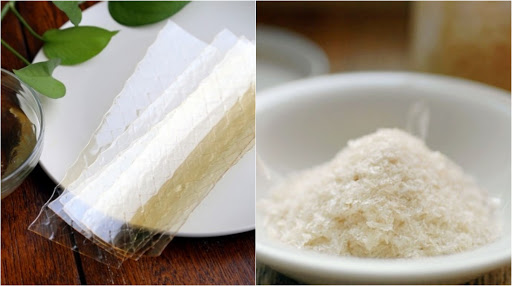 Step 2: Place the bowl of bloomed gelatin in the above tray of hot water and sir well until completely dissolved.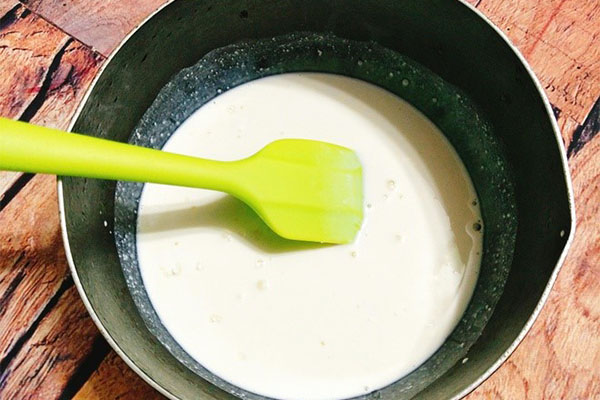 Step 3: Add the gelatin liquid to the milk and whipping cream mixture and stir well. Then cover and refrigerate for at least 5 hours until set. Then run a paring knife along the edges and transfer it to a plate by placing the plate inside down on top and flip them over. Use a wave knife to cut into 1×1 inch cubes.
If you would like to make green tea panna cotta, dissolve 1 tsp green tea powder with 50ml hot milk. Then add to the mixture.
Step 4: Toast the sliced almond in a pan until golden brown. Shake the pan instead of stirring to keep the almond slices stay in their shape.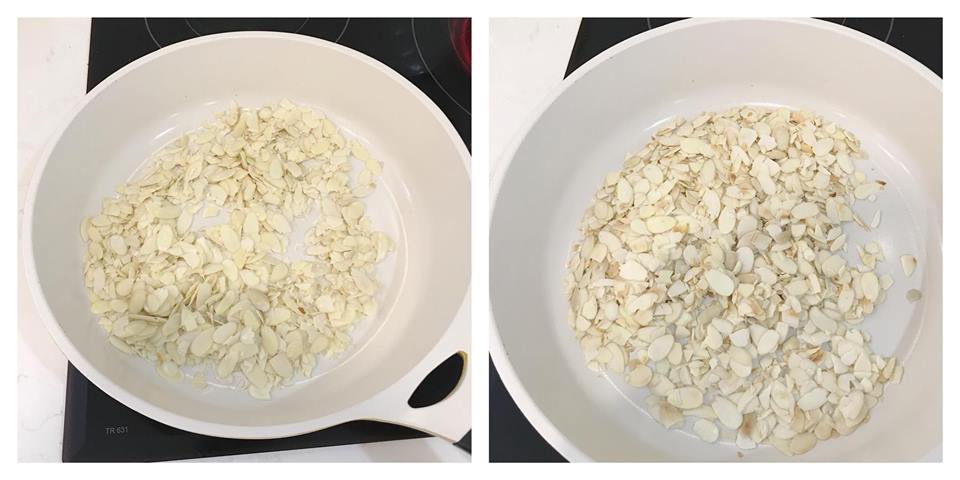 Step 5:  Mix the canned lychee and longan in syrup together. It is ideal if you can use fresh lychee. In that case, peel and remove the seeds. Then soak them in a syrup made by combining 1 part sugar and 5 parts water.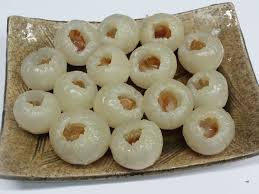 Step 6: To assemble the dessert, fill a large teacup half – full with crused ice. Ladle some lychee, longan and syrup over the ice. Add a few Joanna cotta cubes and sprinkle the toasted sliced among on top to assemble a cold unique bowl of " khúc bạch". After taking a bite, you can feel the mixed flavor melting on your tongue.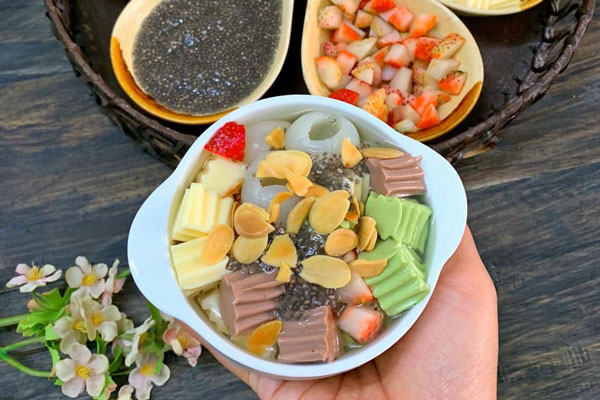 Don't hesitate to pack your luggage, come and discover the amazing land. For more information please visit our family website:
For Vietnam online visa Govietnamvisa.com
For Vietnam local tours: Govietnamtourist.com
For exploring more parts of Vietnam:
http://www.vietnam-online.org/