A small island just off the North West coast, Cat Ba Island is still a great attraction for both domestic and international travelers with unique characteristics: staggering limestone mountains, lush mangrove forests, and untouched sandy beaches. What's more, there is no shortage of interesting things to do on the island that you should try.
Best time to go.
The ideal time to travel there is during the summer, between April and November. But if you want to explore this island in the winter, it still exciting plan. You can avoid the crowed of travelers and the price of hotels and services will be good price.
Cat Ba National Park Hike
15km from Cat Ba Town to the northwest, Cat Ba National Park covers almost half of the island. It was designated a UNESCO World Biosphere Reserve in 2004. And amongst many other wildlife is home to the endangered Cat Ba Langur.
There are a couple of things to do in Cat Ba National Park. Amongst those, you're highly recommended to take a short hike to the top of Ngu Lam Mountain for a panoramic island view. From Cat Ba Town, it is easy to rent a car, a motorbike or even a bicycle from your hotel to get to Cat Ba National Park.
2.     Bike ride around Viet Hai Village
Located in the center of Cat Ba National Park, Viet Hai Village is the largest floating village in Viet Nam. It's a chance to experience a much more peaceful and tranquil side to tourist heavy boats of Lan Ha Bay. A traditional fishing and farming community, Viet Hai village has recently opened itself up to eco-tourism. And at least for now, seems to be maintaining its identity.
Expect buffaloes ploughing rice fields, houses on stilts and an insight into a simpler way of life.
The best way to explore Viet Hai Village is taking a bike ride around the village to see floating houseboats, spectacular surroundings, and know more about the peaceful life of people there.
From Cat Ba Town, you can rent a private boat in Cai Beo Port or a 45-minute boat to reach the village. If you are in Cat Ba National Park, you can join a 6-km trekking tour through jungles, valley, and Ao Ech area to Viet Hai Village. The hard trek requires endurance and several gears such as shoes and insect repellent.
3.     Cai Beo floating village
Established in the early 19th century, Cai Beo boats Vietnam's oldest ancient village, which is home to about 300 floating houses and 600 inhabitants. Local people here are very hospitable and hardworking. They mostly make a living by fishing and raising fish. Apart from a rich history and friendly locals, Cai Beo floating village appeals to visitors for picturesque sceneries and rustic ambiance.
Cai Beo Fishing Village is only 2 km from Cat Ba Town, in the proximity of Ben Beo Port (a 10-minute drive). You can easily get there by taxi or a motorbike. Upon arrival, options available to explore the village are renting a small fishing boat or kayaking.
4.     Visit Lan Ha Bay
In the south of Halong Bay, Lan Ha Bay spreads across an area of more than 7000 ha. Picture-postcard sceneries, limestone grottoes, and crystal clear beaches make Lan Ha Bay a must-visit destination for any tourists to Halong Bay area. 
you can enjoy a variety of fun-filled activities such as kayaking, swimming, rock climbing, and visit floating villages.
5.     Kayak through Dark & Bright Cave
Dark and Bright Cave belongs to the bordering area of Lan Ha Bay and Halong Bay. This is one of the most beautiful caves in Halong Bay area, featuring a lot of stalactites and stalagmites in various shapes and clear waters. While Dark Cave is long and dark, the Bright Cave is much shorter and brighter. Both create a perfect getaway for any adventure seekers to linger.
6.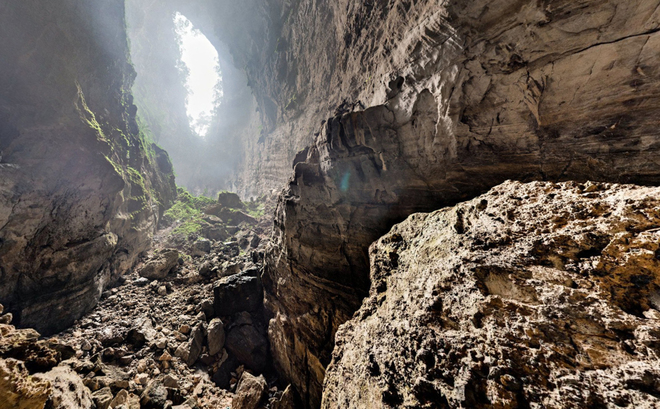 Caves in Cat Ba Island are renowned for primitive beauty and multi-shaped stalactites and stalagmites. Some of the most famous names are Hospital Cave, Trung Trang Cave, Hoa Cuong Cave, and Phu Luong Cave.
If you are interested in Vietnamese history, particularly around the Vietnam War then you will find a trip to the Hospital Cave interesting.
Located in Trung Trang Valley about 15km north of Cat Ba town, Trung Trang cave is one of the more unique and maybe slightly creepy things to do in Cat Ba Island, Vietnam. Known locally as 'gold treasure', Trung Trang Cave is around 300m in size.
7. See langurs on Monkey Island
 Another favourite thing to do in Cat Ba Island is take a side trip to Monkey Island or Cat Dua Island to give it it's official name.
To be honest it's quite sad to see the monkeys have clearly been encouraged to scavenge for human food.
Under no circumstances should you feed them or let your guard down with snacks around. Watch out for them too as they can be aggressive.
But spotting the monkeys isn't all there is to Cat Dua Island. In fact the star of the show is the short hike that takes you to the peak of the island.
8. Sunset At Cannon Fort Cat Ba


Perched atop a hill, Canon Fort, another name of High Point 177, is the most famous historic relic of Cat Ba Island. The site was built in the 20th century and consists of a battle of two big guns and a tunnel system.

Get there in plenty of time to get a good spot before sunset. And carry on past the busy cafe and picnic area for the best views out over the harbour.
The smaller outlying rugged limestone landmasses and silhouetted boats shooting across the bay make for truly incredible views over the emerald sea. Sunset at Cannon Fort Cat Ba simply has to be on your what to do in Cat Ba itinerary.
9. Cat Ba Beach
With an array of secluded and untouched beaches, swimming is a can-not-miss experience when visiting Cat Ba Island. Unlike other touristy beach areas, Cat Ba beaches are very clean and quiet.
 3 Cat Co beaches including Cat Co 1, Cat Co 2, and Cat Co are the most attractive to beach bums. The beaches are next to each other and all have loungers for sunbath, umbrellas, and stalls for drinks
10. Explore Cat Ba nightlife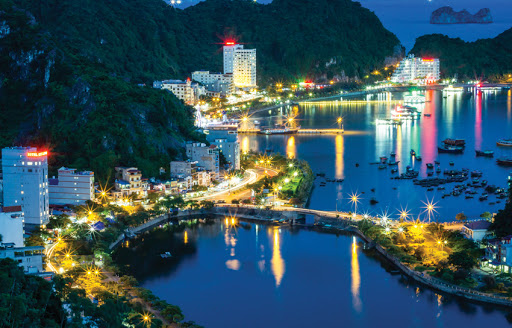 Cat Ba nightlife is more tranquil and decent compared to other vibrant destinations. However, you can still get wonderful experience as Cat Ba Island is full of local specialties and exotic things to try at night. Don't miss a chance to savor Hai Phong's rice noodle soup with crab meat, the special local food, at some food stalls on the sidewalk or rent a bike to ride around the quiet road of the town.
Don't hesitate to pack your luggage, come and discover the amazing land. For more information please visit our family website:
For Vietnam online visa Govietnamvisa.com
For Vietnam local tours: Govietnamtourist.com
For exploring more parts of Vietnam:
http://www.vietnam-online.org/