Experience Snake Meat In Vietnam of American Tourists. In the 9- day journey in Vietnam, Jonathan Look and his wife, Sarah visited the snake village Le Mat, Hanoi to enjoy dishes made from snakes.
Jonathan Look at the age of 54 is an American photographer. In 2011, he decided to change his life by travelling and discovering all parts of the world. In the last month, he and his wife visited Vietnam and came to Le Mat village to uncover.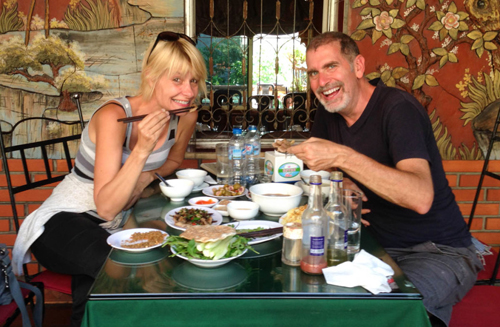 Mr. Look shared "during the time of processing, my wife was scared of and went out. But I still kept watching".
Le Mat village is about 20 minutes of driving from Hanoi center. It is a famous place where Jonathan Look freelancer had heard much about. In his mind, the village must have been crowded with tourists. However, the peaceful life and the absence of tourists made him surprised.
Look dealt some difficulties in finding ways because he did not have guiding map. Thanks to whole- hearted help of the local, finally both came to their expected destination.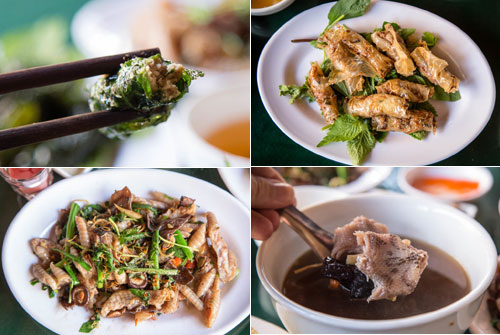 When leading to a garden with thatched roofs, he found snakes everywhere, they appeared in wine jar, cages, etc. and he was quickly attracted.
Cobra snakes were quickly held and cut with a sharp knife. Then parts of snake such as heart, liver, spleen were placed in a table to prepare for the next stage of processing.
Dishes that Johnathan enjoyed at the Le Mat village include snake fried with onion, fried snakes rolled with betel leaves, etc. The snake cooked with herbs was not favorite taste of two American tourists.
Look told that "Right from sitting on the table, we are introduced two kinds of liquid in red and yellow colors, a plate of beating snake heart". Of which, the red jar is Vietnamese wine and snake's blood. The yellow jar is a mix of wine and snake bile.
Johnathan remembered that he was guided to put the beating heart into the white wine, he used chopsticks to take the beating heart up and look carefully before putting it down to the glass of wine. "I start pouring such pungent liquid into my mouth and keep the heart on the tongue for the last feeling before swallowing".
Apart from glasses of wine, two American tourists were also served with snake porridge, snake fried with onion, fried snake with rice cake, fried snake's leather, etc. The most favorite food he and his wife eat is fried snake rolled in betel leaves, fried cobra's liver with ginger and snake rolls.
After finishing the meal, he felt dizzy and full. He shared that "I almost forget the material of the meal and think that I can hear the sound of snakes crawling though the garden, feel its heart beating in my stomach".
Vietnam warmly welcomes you to enjoy Vietnamese cuisine and to make your trip in smooth water, turn your plan into real by quick hands to obtain Vietnam visa at http://govietnamvisa.com and forVietnam eTicket at http://vietnamairlines247.com.
For your memorable travel, it is convenient to book tour at http://govietnamtour.net
For your great stay and nice relaxation after a long trip, it is nothing better than booking hotel athttp://govietnamhotel.com