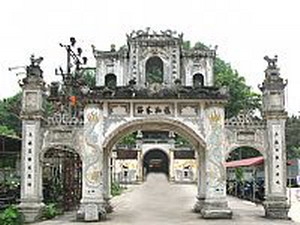 Ba Tam temple is located in Duong Xa village, Gia Lam district, outskirt of Hanoi. Every year, the temple organize two main festival on 19th of February and 25th of July (lunar calendar).
The festival on 19th of February is started with a solemn procession. The procession starts from Ba Tam temple to the well near Sui village (Phu Thi village), 2 km from the temple. Leading of the procession is Wu Xing flags, next is festival flag, gongs, drums, eight weapons. Next the palanquin of the ancestral tablet of Miss Y Lan. They go in procession along road 179 from the temple to Sui village. After Y Lan palanquin is another one for a water jar. The elderly in this village remember in the past, there was a big ceramic Japanese jar but now it has been lost.  In addition, there are palanquins of villages in Duong Xa, hence the procession is in large scale and long line. It takes about 4 hours to procession holy water back to the temple.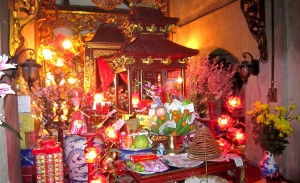 During the water procession, villages also conduct other processions to receive offerings. The elderly of five villages will check carefully offerings. They are totally betel and wine. According to legend, the work of making cone shape sticky rice need to be pure. It must use water from Quan Doi well in the beginning of Duong Dinh village, left about 3-4 days for clean water, then use to wash rice and cook sticky rice. After careful checking, the cult will start.
After the main cult, villagers and pilgrims go back and forth for offertories. The first festival day lasts to late night in a solemn atmosphere. After ending of the cult, offerings will be divided into two equal parts, Duong Xa village takes one, and the other is distributed to remaining villages. In particular, The chief priest will receive 60 cones and 60 bananas.
At Xay yard inside temple, in the past, it was very large and had cool and luxuriant trees where human chess took place. The most good-looking person will be chose as a General. Each chessman has a stool to sit, particularly, the General is added a parasol.
Other games: tổ tôm điếm (Vietnamese card game, wrestling, cock fighting, fireworks, etc. the festival lasts until the end of February 21 Lunar calendar. On February 22, the prize of human chess and wrestling will announced.
Recently, the festival of Ba Tam temple has become a big festival. The temple surrounding is remodeled more spacious and nice-looking. The festival is solemnly held by local government and villagers.
Vietnam warmly welcomes you to enjoy Vietnamese cuisine and to make your trip in smooth water, turn your plan into real by quick hands to obtain Vietnam visa at http://govietnamvisa.com and for Vietnam eTicket at http://vietnamairlines247.com/.
For your memorable travel, it is convenient to book tour at http://govietnamtour.net
For your great stay and nice relaxation after a long trip, it is nothing better than booking hotel at http://govietnamhotel.com