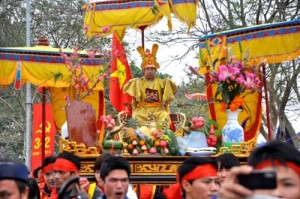 Thuy Loi village, Thuy Lam commune, Dong Anh district, Hanoi. According to legend, after many times failing to build Co Loa citadel, the King Thuc Phan An Duong Vuong was helped by Joss Huyen Thien Tran Vu to eradicate leprechaun and then the citadel was successfully built. To acknowledge great merit of the joss, the King ordered to build a Sai temple worshipping joss Tran Vu and annually on spring, the King in person came to worship. But later, because of difficult transportation and money cost, the King ordered Thuy Loi village conduct the festival and thereafter the festival of King procession has been annually held on 11th of January.
To prepare for the big festival, from early days of new year, villagers repair road and find good place to set palace for the King and other officers; villagers make Chung cakes, Day cakes (traditional Vietnamese cakes) and other offerings. Before main festival, villagers will kill buffalo, cow, and pig to give a feast for people in the communal house. On 11th of January, main festival is took place, a man masqueraded as the King sits in palanquin and carried by young and strong men from village to  communal house. After the king, lord and officers settle down, the party starts and noisy sound of gong and drum sign the end of party. According to traditional rituals, prices will sit on palanquin and then come to visit King, next, the King sit on palanquin and the procession begins: the king worships Joss Huyen Thien in Sai Temple and conducts different rituals which are similar to ones at communal house, pagodas, etc.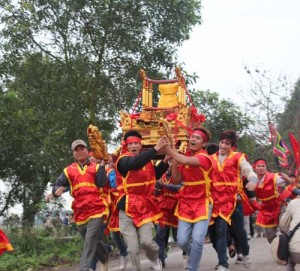 The festival takes place in a solemn and boisterous atmosphere, the sound of gong and drum, thousands of people here is eager to follow the procession. Especially, after finishing the procession, the King comes back his palace and sits down on his throne, residents will come to the palace to congratulate. According to old villagers, a man who is appointed as the King must match strict requirements of moral, health, age (over 90 years old), etc.)… In two wars against the French colonialists and the U.S. imperialists, the procession of false King at Thuy Loi was interrupted. But since 1984 it has been consistently maintained. Formerly , the king cut land and allocated for those who prepared pork and buffalo in the King welcome ceremony, now in fields of Thuy Loi village are still named King palace (dõng Vua), area of raising buffalo (khu Trâu đô), area of raising pork (Lon đô), etc.
In the past, the King procession took place in 3 days but nowadays, it is organized just in a day to fit new cultural life. On 11 January every year , tourists flock to Thuy Loi village to see the King procession and be more proud of the unique culture of thousands of years of Thang Long – Hanoi.
Vietnam warmly welcomes you to enjoy Vietnamese cuisine and to make your trip in smooth water, turn your plan into real by quick hands to obtain Vietnam visa at http://govietnamvisa.com and for Vietnam eTicket at http://vietnamairlines247.com/.
For your memorable travel, it is convenient to book tour at http://govietnamtour.net
For your great stay and nice relaxation after a long trip, it is nothing better than booking hotel at http://govietnamhotel.com