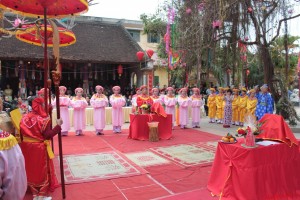 The Mang Son Temple is an ancient temple worshipping Saint Tan Vien. According to legend, the Saint Tan Vien from Ba Vi mountain visited places near and far. One day, he came to Son Dong area and saw poetic landscape here together with friendly people, good living standard, hence he decided to stay here and built a palace at Mang Son Hill. People in this area learnt many hunting skills from him. To acknowledge his merit, residents here built a temple and annually organize festival in Mang Son temple. The festival takes place from 6th to 12th of January.
On main festival, five villages including: Son Dong, Son Trung, Tuong Phieu, Trach Loi and Thuan My will point a representative to bring offerings in Son Trung communal house. The offering is a hexagonal box of fruits with 8 layers husband carried by 4 people.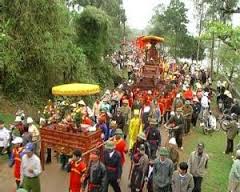 Young men gather in Son Dong communal House, then go in procession. A palanquin procession includes eight men for  a, one holds a parasol, one hold a flag for road guide, one drum.
The festival aims to express villagers' sincere heart to the Saint Tan. Each village point their representative for cult. The chief of priest is an elder of Son Don village. Near the priest is three assistants, one reads petition, five carry wine and five carry lights. The priest is usually elders, happy family with good behavior. Son Dong residents think that the cult is very important and relates to happiness of each household, hence it can not be arbitrary to choose the priest.
It should be noted that there is a tray of five fruits offered to worship, of which has available fruits in the area. But it must have green jack-tree, then young pine apple, grapefruit, banana, orange or kumquat, etc.
Moreover, other sacrificial tray that is indispensable is wildlife meat. In the past, they used dried meat but now the hunting is quite hard, they use 3 pieces of fresh pork meat instead. The cult of Mang Son temple ends at 1 pm, villagers will procession 3 palanquins from the temple to an area of festival activities where young men and girls sing to exchange their emotion. Other games as crossbow and swinging take place during whole afternoon. At night, they burn torches up to midnight, then procession palanquin come back the communal house.
On 8th of January, Son Dong villagers reorganize festival as on 6th of January but not stop at Thay area, they directly come back the communal house with smaller scale.
In conclusion, Tan Vien festival in Son Dong village brings distinctive features, especially, night procession left unforgettable impression for those who used to take part in the festival in Son Trung. It reflects the pride of the people of traditional local culture.
Vietnam warmly welcomes you to enjoy Vietnamese cuisine and to make your trip in smooth water, turn your plan into real by quick hands to obtain Vietnam visa at http://govietnamvisa.com and for Vietnam eTicket at http://vietnamairlines247.com/.
For your memorable travel, it is convenient to book tour at http://govietnamtour.net
For your great stay and nice relaxation after a long trip, it is nothing better than booking hotel at http://govietnamhotel.com