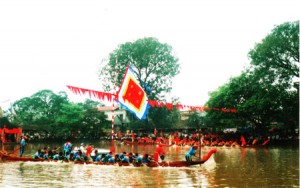 All preparation for this festival is conducted from beginning of New Year. On 9th of March is the first day of festival. The most important rite on first day is Saint Procession from temple to communal house after the cult in communal house. The procession is solemnly organized with full rites and crowd of villagers. The procession is led along village road from Thuong temple back to the communal house. When coming the communal house, the Saint palanquin is placed in main hall, then village elders carry Saint's crown to inside communal house.
The festival begins with solemn rituals of association of village elders. All rituals are carried out from main seat, through front yard then come inside communal house. During the village elders worship, two neighboring rooms is covered with mats in order that pilgrims and villagers can prepare for offering ceremony. They go back and forth with full of offerings.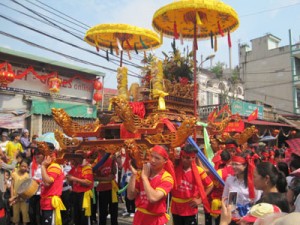 After hearing the sound of gong and drum, some young men and elders (in Saint Crown procession) from inside communal house go to inside main hall. The palanquin is placed in front of entrance of Thuy communal house. A time of gong and drum sounds firework display two sides of river and inside house that sign the Saint settled down.
Command signing for the boat sailing is sounds of gong, drum and firework when the Saint palanquin settles down. Boats from different directions slowly come closer Thuy Ta together with cheers of villagers.
Three villages: Thuong (Upper), Trung (middle) and Ha (lower), each has two boats. In the past, the sailing had one more boat name officer's boat. The officer's boat did not participate in the boat sailing, just followed them. The boat 15 meters long includes 18 applicants, 6 other men includes sailor, commander, flag handling, one for scooping water, and one for a referee who is responsible to command swimmers, and others in boat following the boat sailing 's rules. Swimmers are chosen at the age of 20-35, healthy and good experience. Each sailing includes 6 rounds: 2 rounds on morning 10th of March, 1 round in afternoon same day, 3 rounds on 11th of March, then announce prize. The winning boat has chance to carry Saint crown from Thuy Ta to Thuong Temple.
The traditional Dam boat sailing aims to promote fine and longstanding tradition against foreign invaders, defend the country, to remember the great contributions of the national heroes, our ancestors, who had the merit of building country and inherit essence of traditional culture and history, to people's awareness of promoting good nature, when drinking water, remember who dug the well, and faithful life.
Vietnam warmly welcomes you to enjoy Vietnamese cuisine and to make your trip in smooth water, turn your plan into real by quick hands to obtain Vietnam visa at http://govietnamvisa.com and for Vietnam eTicket at http://vietnamairlines247.com/.
For your memorable travel, it is convenient to book tour at http://govietnamtour.net
For your great stay and nice relaxation after a long trip, it is nothing better than booking hotel at http://govietnamhotel.com