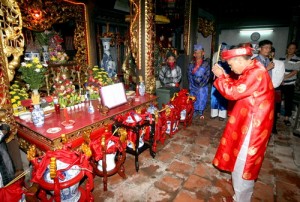 The festival of Mieng Ha village used to be called the festival of firework that annually takes place on 4th of January. According to legend, God Cao Son, the town city in Thach temple was honored as a great Saint who commanded an army to fight against foreign invaders and protect country Van Lang under 18th King Hung. After winning, the Saint came back Mieng Ha village to open festival.
The festival opens from 7 am to 9 am with a sound of firework. The village has 6 groups, every year has a group taking responsible of organizing festival. The happy sound of firework displays imitates thunder, flashes of lightning and  endless rain waters down for good harvests.
After finishing opencast sacrifice, young unmarried men procession palanquin and place it inside communal house. on later days, elders will worship, young men and girls see singing performance or play swing.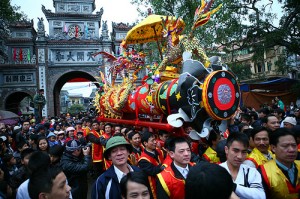 Because of expensive spending, the village no longer held the festival of firework, they organize game "ội ại" instead.
When the light of torch went out, a village elder will drop off 6 cotton ropes  hanging on the ceiling of communal house. and then, the communal house is total in dark. According to village's rule, all men have to take off their clothes, wearing only under pants,  then boys shout "ội ại" and  jump to rob cotton sticks. That hand the cotton stick will torn it to get a bamboo stake inside, then run out of the house and bring it back to their group. The group that robs three bamboo stake will bring luckiness for whole group in that year.
The game "ội ại" in the festive of Mieng Havillage is in people's consciousness to expect yin and yang harmony,  continuous reproduction,  prosperity, fertility, along with a firecracker of praying for rain. It bear features of ancient agricultural rites in the Red river Delta.
In recent years, the game "ội ại" has been held in the Mieng Ha village with lively fun games such as: gold robbing and silver robbing for more luckiness and attract pilgrims to see and participate in a unique cultural activities in Ha Tay.
Vietnam warmly welcomes you to enjoy Vietnamese cuisine and to make your trip in smooth water, turn your plan into real by quick hands to obtain Vietnam visa at http://govietnamvisa.com and for Vietnam eTicket at http://vietnamairlines247.com/.
For your memorable travel, it is convenient to book tour at http://govietnamtour.net
For your great stay and nice relaxation after a long trip, it is nothing better than booking hotel at http://govietnamhotel.com