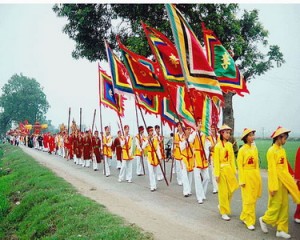 Van Sa is a village near Red river, located in a fertile alluvial of Tan Hong village, Ba Vi district, Hanoi. The Van Sa festival annually takes place on 4th and 5th of January (Tet holiday) to memorize the merit of lady Ngu Nuong and great king Tran Quoc Chan. The festival is held in temple or communal house.
On 4th day, a village team is led by the village head who ride a horse leading a team of 12-14 young men wearing solider 's uniform. In addition, one man handles flag, one drums, and one brings loudspeaker. The team will go along village roads, drumming and announce of coming festival through loudspeaker. On main festival, people from villages flock to see the festival.
Starting from early morning 5th of January, two or three groups in village will join together to create a procession. The procession includes palanquin, truncated cone of sticky rice, sticky rice, chicken, betel-nut, wine, flowers. After that the village organizes a palanquin procession carried by 8 men, then come to an elderly who is excellent in writing to ask for the petition.
The ritual part takes place in afternoon, groups of villagers organize a cocoon procession. the cocoon festival is very busy including cotton procession, dancing and "tứ dân lạc nghiệp" game (the game that people play role of four kinds of people in different fields: army, farm, industry, and trade).
When the first cocoon procession ends, villagers will open the communal house's entrance for second cocoon procession and game "tứ dân lạc nghiệp", it is similar to previous one, step by step until the final procession.
Nowadays, Van Sa villagers call the game "tứ dân lạc nghiệp" as "trò triềng". It means the game displays work performance of four above people.
Particularly, when it comes to "trò triềng" at the cocoon procession and  cocoon robbing, the village elders said that such these games only appeared in decades of 20th century. It is also thought that the festival must be annually held for happiness and luckiness.
The Van Sa festival is a characteristic village festival, associated with Vietnamese beliefs of breeding fertility of agricultural population.
Vietnam warmly welcomes you to enjoy Vietnamese cuisine and to make your trip in smooth water, turn your plan into real by quick hands to obtain Vietnam visa at http://govietnamvisa.com and for Vietnam eTicket at http://vietnamairlines247.com/.
For your memorable travel, it is convenient to book tour at http://govietnamtour.net
For your great stay and nice relaxation after a long trip, it is nothing better than booking hotel at http://govietnamhotel.com