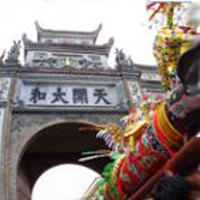 Lai Tao is a village located in Bot Xuyen commune, My Duc district, Hanoi. According to legend, after the victory against Southern invaders, three Generals enjoyed the spring of Huong Pagoda, went through Cao Trang area (Lai Tao village now) where their parents used to rest on occasion of Huong pagoda festival. Three Generals award the village 12 silver bars and 12 gold bars to hold festival. Since then, every year 11st, 12th, 13rd of March lunar calendar, the village holds festival to commemorate the great merit of three Generals.
On days near the festival, groups in the village prepare pig, chicken, grind rice, flour to make cakes. The temple is cleaned and redecorated.  The place of worship is magnificently furnished. A team of priest, musical amateurs, dragon team, flag team wear traditional yellow uniform. Under the instruction of conductor, 12 musicians with big drums, small drums, copper gong, bamboo flute, etc. create throbbing and melodic music. Leading the procession is a team of dragon then flag team and the elderly in villages. The palanquin of Saint Tan Vien Son is carried by 8 healthy men. The palanquin is made ​​of precious wood, carved dragon, delicate flowers. Incense smoke is spiraling up on two sides. Attracting crowd of pilgrim is procession of three Generals carried by 12 strong and unmarried men. Generals sit on 3 large thrones, wear brocaded belt, Siamese army, wing hat shimmering. Villagers go in procession on major roads, after more than one hour come back to the communal house. The palanquin is stopped at the communal house's courtyard and elders, monks do rituals as ancient ancestors did.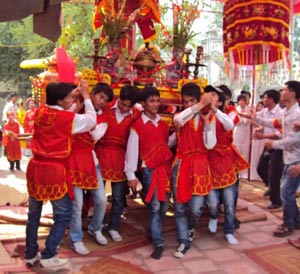 At night same day, opera singing (cheo singing and tuong sing) take place at the communal house. On 12th March is main festival. On the previous day, people here slaughter pigs and chicken, made sticky rice, cook sweet gruel and cakes  to sacrifice Saints and ancestor. On very early morning, offerings are carried on palanquin, healthy and strong men carry the palanquin following village elders. Beside worshipping, there are many folk games: catch ducks at Đình pond, archery and swordsmanship, etc.
The festival is an opportunity to remind villagers of great merit of Gods who protected country and save the people as well as express gratitude towards ancestors, grandparents, parents.
Vietnam warmly welcomes you to enjoy Vietnamese cuisine and to make your trip in smooth water, turn your plan into real by quick hands to obtain Vietnam visa at http://govietnamvisa.com and for Vietnam eTicket at http://vietnamairlines247.com/.
For your memorable travel, it is convenient to book tour at http://govietnamtour.net
For your great stay and nice relaxation after a long trip, it is nothing better than booking hotel at http://govietnamhotel.com