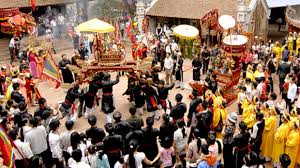 Khe Thuong is an ancient village near Da river. On early days of year, the village opens festival worshipping Tan Vien mountain joss- one of four amaranthine Gods in Vietnam. The festival takes place from 3rd to 7th of January, but actually starting from 30th of December (Tet Holiday).
First ritual is conducted on 30th of December with the meaning of seeing off Tan Vien joss cross Da river, back to Nghia Linh mountain to acknowledge his wife's father. At that time, dignitaries, elders and organizers all have to wear clothes as in main festival with crown caps and ceremonial clothing. Villagers conduct the ceremony as traditional rituals then come to Khe Thuong wharf. This is the ceremony of seeing off Tan mountain joss crossing river. At night of 30th, the ceremony of see- off starts, a ferryman in red costumes steps down a ferry and sails from Khe Thuong wharf to Bo wharf (Thach Dong commune, Tam Thanh district, Vinh Phuc). People all understand that the Joss was on board to go across river and accompanied by crowd of soldiers. Therefore the ferryman has to row forth and back across the river three times, that so-called Chua Trai procession. After that, villagers come back their home for preparation of Tet holiday and New Year's Eve with excited mood and hoping for  a lucky and successful coming new year.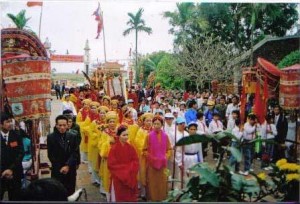 On afternoon 2nd of January, villagers prepare palanquin, flag, drums, and incense on the bank of Da river to call Joss's soul staying in Nghia Linh mountain back.
On the morning of 3rd, the whole village opens jubilant festival with bustling games in communal house's yard such as: cockfighting, wrestling, Chinese chess, chèo singing and other funny games. The wrestling is especially concerned to encourage chivalry together with recalling the victory of mountain god and sea god thanks to the strength and braveness.
The chivalry of Khe Thuong village is also shown in custom "slash luck". The custom "slash luck" is a special custom taking place in 7th of January. Villagers will collect strong young men who have to practice by themselves to use knives skillfully. Villagers in happy mood come to worship in communal house and come back with excitement of a new year full of hope, nice "It is the first step that counts" . People congratulate each other and together join the festival with the hope for good tomorrow.
The festival of Khe Thuong village is associated with the legend of Mountain God and Sea God, expressing the strength of water rice agricultural people against natural calamity, flood and also showing the chivalry of Huong Khe village.
Vietnam warmly welcomes you to enjoy Vietnamese cuisine and to make your trip in smooth water, turn your plan into real by quick hands to obtain Vietnam visa at http://govietnamvisa.com and for Vietnam eTicket at http://vietnamairlines247.com/.
For your memorable travel, it is convenient to book tour at http://govietnamtour.net
For your great stay and nice relaxation after a long trip, it is nothing better than booking hotel at http://govietnamhotel.com