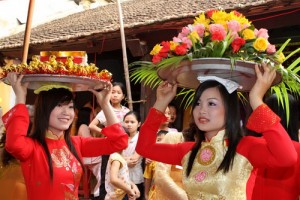 The Ta Xa Village is located in Dai Thang commune, Phu Xuyen district, Hanoi city. The traditional festival is solemnly held from 10th to 15th of March (lunar calendar). In main festival, there are many games taking place such as: cock fighting, Chung cake cooking, etc. Since the August revolution and years of war, the village festival had been interrupted or even can not be organized. About tens years now, Ta Xa village has recovered the village festival on March, the festival annually takes place in two days 11th  and 12th of March and warmly welcomed by villagers and people working far from their hometown with the spirit of preserving and promoting traditional cultural identity.
The festival includes 2 parts: rite and feast
The ritual part is very solemn, on the morning of 11th, whole villagers go in palanquin procession to the temple and then invite the Saint comes to the communal house for worshipping, on the morning of 12th, the worshipping of Saint continues taking place, after that the Saint will be greeted back to the temple.
The feast part is organized with the ritual part at the same time with traditional and modern connection. Some traditional games are recovered such as: cock fighting and Chung cake cooking.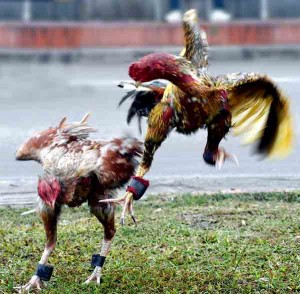 Three households are chosen for the contest of Chung cake cooking: 21 cakes for each. The cake weighs 1.1 kg, square shape, well-done. The board of examiner carefully estimate then classify prizes: first prize, second prize and third prize. The cock winning first prize will be sacrificed to the Saint. The chicken and Chung cake, after sacrifice, will be equally divided for everyone to enjoy the holy bud.
Modern games also attract crowd of people: Chinese chess, tug-of-war, catch duck under water, boating, cock fighting, and the newest one is "Jump with bag and scoop water at the same time".
The festival of Ta Xa village not only carries educational meaning to acknowledge ancestral roots, but also tighten solidarity to innovate the country.
Vietnam warmly welcomes you to enjoy Vietnamese cuisine and to make your trip in smooth water, turn your plan into real by quick hands to obtain Vietnam visa at http://govietnamvisa.com and for Vietnam eTicket at http://vietnamairlines247.com/.
For your memorable travel, it is convenient to book tour at http://govietnamtour.net
For your great stay and nice relaxation after a long trip, it is nothing better than booking hotel at http://govietnamhotel.com