When traveling the world and crave a hot bowl of Vietnamese noodle soup (phở), you can enjoy this dish at many Vietnamese restaurants in foreign countries like Switzerland, Australia, South Korea, etc.
Overseas noodle shops are keeping the original flavor as well as the traditional style of Vietnam phở.
Vietnamese Noodle Soup (Phở) Bang in the US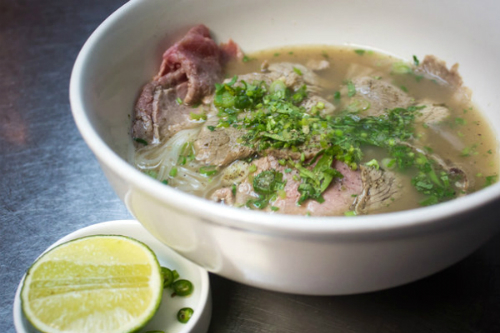 Vietnamese community living in the US is very large, so there are many Vietnamese eateries, especially Phở restaurants. Aside from Pho Hoai, Pho Pasteur at New York, it is also added with Pho Bang.
This is one of the noodle shops which was voted best in New York City by Thrillist.com page with a tasty broth, fragrant herbs, soft noodles, and tender beef. Prices from 7-10 dollars per bowl.
In addition, the eatery also serves many Vietnamese dishes like grilled meat noodle, rice in pot, spring rolls peanuts, etc. This shop is located on the bustling street of Chinatown.
Maison d'Asie in Switzerland
The Asian House (Maison d'Asie) has been opened in Geneva for 10 years ago and attracts many international visitors and overseas Vietnamese who are living and working in Switzerland.
The shop is decorated with many traditional Vietnamese instruments and is located near the station Cornavin; hence it is always crowded.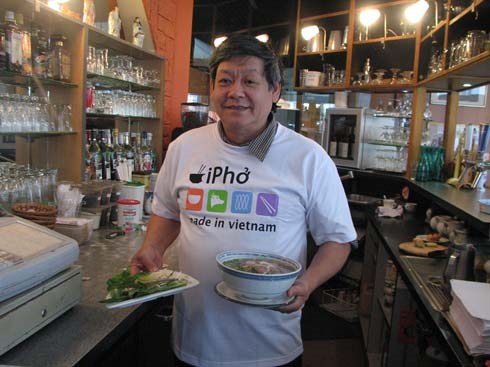 Vietnamese noodle shop owner in Genava.
This is not the only Vietnamese eatery in this city but Vietnamese Noodle Soup (Phở) here is attractive due to traditional broth, with spices such as onion, pepper, cinnamon, ginger, cardamom, etc. It costs 17 francs Switzerland/ bowl (almost VND 400,000).
Little Saigon in South Korea
Vietnam tourists coming to Korea is not difficult to find a noodle shop. This dish is sold on main streets and school zones. However, the taste of Vietnamese Noodle Soup (Phở)  is varied to suit the tastes of Korean people. The famous Vietnamese noodle brands in South Korea are Little Saigon, Little Papa Pho, Pho Mein, etc.
Of which, Little Saigon is the most famous restaurant in downtown Apgujeong, Seoul. The most familiar dish here is beef noodle soup, priced from 8,000 to 12,000 won (about VND 150,000-230,000). In addition, the shop also serves other dishes like noodle spring rolls, salad, etc.
Phở An in Australia
The Vietnamese Noodle Soup (Phở) shop is decorated with pictures of ao dai (Vietnamese traditional costume) and conical hats. It becomes a familiar location of overseas Vietnamese and foreigners who like Vietnamese Noodle Soup (Phở).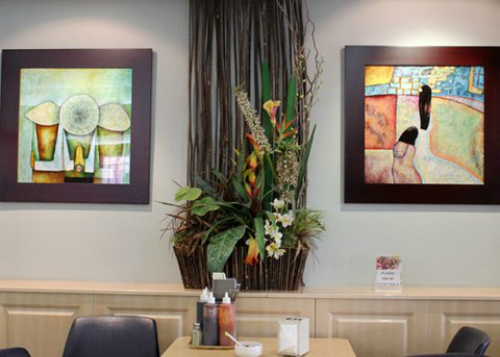 Phở An with many traditional images of Vietnam
A bowl of Phở An is sold at Bankstown, New South Wales, Australia for about $ 18 AUD (about 300,000 VND). Each bowl of pho carries traditional flavor. Its broth is made from bone, soft thread noodles, fresh beef, served with a plate of basil, chili sauce, satay, etc.
Vietnam warmly welcomes you to enjoy Vietnamese cuisine and to make your trip in smooth water, turn your plan into real by quick hands to obtain Vietnam visa at http://govietnamvisa.com and for Vietnam eTicket at http://vietnamairlines247.com.
For your memorable travel, it is convenient to book tour at http://govietnamtour.net