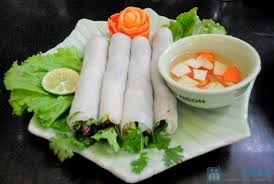 The fresh rice noodle roll is made from rice noodles, beef meat, herbs, and dipped in fish sauce. It looks like simple but the important thing lies on the step of marinating meat and mixing sauce.
The Famous Fresh Rice Noodle Rolls of Ngu Xa village
Ngu Xa was a craft village near Truc Bach lake, today it is Ngu Xa street in Ba Dinh district, Hanoi city. Ngu Xa village used to be well-known for the craft of bronze casting, but today this traditional craft has been narrowed and services of famous cuisines develop instead, especially the dish of fresh rice noodle roll attracts plenty of "beautiful girls and cool boys" as well as dinners at home and abroad.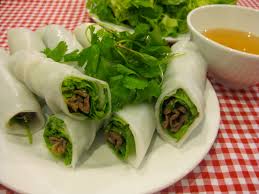 The rush time of Ngu Xa street is usually on weekends and daily afternoons. Enjoying the fresh rice noodle roll mainly aims to enjoy and discover a new and unique Pho style that is different form traditional Vietnamese noodle soup. With the same some ingredients with the noodle soup as; rice noodles, meat, and herbs but the fresh rice noodle roll is not water with broth, it is dipped in mixture sauce. The rice noodle remains square, rectangular or round cross-sections which is used to wrap  meat and nerds rather than cut into small strands as traditional pho. That's it, it sounds incredibly simple but delicious secret of this lies in the stage of the step of marinating meat and mixing fish sauce.  The ideal marinating time is not too long and not too fast, about half an hour. And the spices used to marinate meat is the secret of each restaurant to create a special flavor.
The special taste of Lang basil tastes as mint-flavored, lightly fragrant and cool flavor. The steps of making a fresh rice noodle roll are very simple: just pick up fried meat in the middle of rice noodle, then add vegetables, next gently roll rice noodles. The rice noodle is soft but tough that determine the nice appearance of noodle rolls. The noodle roll look like the harmony of the color green of hope together with the white color of beautiful natural rice and the delicious taste of rare fried beef.
Address: Ngu Xa street, Ba Dinh district, Hanoi (Near Truc Bach lake)
Vietnam warmly welcomes you to enjoy Vietnamese cuisine and to make your trip in smooth water, turn your plan into real by quick hands to obtain Vietnam visa at http://govietnamvisa.com and for Vietnam eTicket at http://vietnamairlines247.com/.
For your memorable travel, it is convenient to book tour at http://govietnamtour.net
For your great stay and nice relaxation after a long trip, it is nothing better than booking hotel at http://govietnamhotel.com